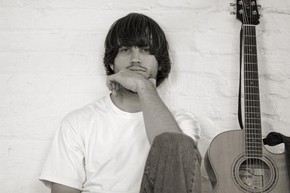 At five-years old, Willie Ames was introduced to guitar, and the rest as they say is history. Over the next several years, the fledgling picker took it upon himself to learn the five-string craft inside and out. And while the event itself is not that extraordinary, it is foreshadowing of Ames' independence and self-reliance; the very two facets that would eventually give birth to a singer/songwriter with an emerging career.
"My dad always played around the house," Ames said of his introduction to guitar. "We always had a classical guitar laying around and he'd just pick it up every so often. I got most of my guitar influence and traditional inspiration from him. He showed me the basics and I kind of took it from there. I was just self-taught."
Initially, guitar took a backseat to the academic and athletic norms of any young adult. Ames recalls during those years "it was more of a hobby. I'd play maybe one or two hours after school or whenever I could pick it up and play it."
Fast-forward to college which saw Ames enrolled in a mechanical engineering program. Around this time he found what would become two transformative figures in his life. "It was during my freshman year and a really hard inspiration hit me and I got into Lindsey Buckingham from Fleetwood Mac and Mark Knopfler from Dire Straits and something about those two just grabbed my heart and threw me to the floor and told me I had to learn to play music like them," Ames said. "That really grew until my sophomore year and it finally turned into an addiction of sorts… but a healthy addiction."
But as the addiction grew, Ames found himself less enamored in academics and more forward gazing at the prospect of a career in music. "It was probably two weeks into my fourth year, during fall semester and I was just losing concentration and focus. I was sitting in class one day and being in an engineering degree, most of my professors didn't speak English and I just thought to myself 'What's the point of all of this?' I decided then that I was going to drop all of my classes. I like to think of it as changing majors, only instead of being in school, I'd be self-taught." And though the focus of his "studies" had changed, Ames has stayed committed to the singer/songwriter sound of his icons.
Since that profound decision, Ames has been at work continuing to craft his signature sound of acoustic folk rock. The current catalog of his work can be found on his self-titled album, comprised of 16-tracks (seven hidden tracks with vocalist Kelli Baker) of acoustic, electric and banjo strums and picks.
Album opener "Ice Breaker" shows Ames' technical ability best. It is an acoustic storm of fingerpicking melody interplay with occasional cymbal crashes provided by Jason Ford on drums. The demure "Desert Run" is a fan favorite and a sure in for any Ames set. It's a simple yarn spun around tight instrumentation and vocal interplay. "Johnny Cash" features his acoustic prowess with a bit of country twang thrown in for good measure. The down octave vocals ride the picked melody making it slightly reminiscent of a country ballad.
Ames will be featured on several dates for this year's Los Angeles Music Awards, wrapping up his current tour by the end of summer and then plunging into his next album of which he says he has "nine songs ready to go." There are also whispers of an East Coast tour next year.
Words By Chris West – cwest@skopemagazine.com
Photo By: Amy Angelo