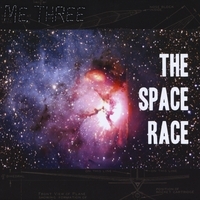 Get ready for Alan Chesnutt's second release, The Space Race, which is a mix of indie rock, alternative & electronica.   The Alabama-based singer/songwriter/multi-instrumentalist that calls himself Me, Three comes back strong with this solo project.   That means Me, Three is the wizard behind all the music on this record, so in this case you can pay attention to the man behind the curtain.   This one-man show has created a powerful mix of songs where each track takes on a life of its own.   The ironic part is that Chesnutt actually refers to himself as a wizard where the music is his magic.   Let's watch and observe now to see what tricks this Me, Three has under his sleeve.
Back in 2007, Me, Three came out with his debut record Becoming Overgrown, which was mainly an instrumental album.   Looking ahead to 2010 & beyond, Alan now has The Space Race completed, so on your mark…get ready…set…GO!!!   Prepare yourself as you journey through the deepest depths of outer space with trippy sonic beams piercing your ear drums.   This new recording actually offers nine songs with vocals and three instrumentals.   The vocal parts start in on track three, "Better, Brighter", where you're hearing dragged out singing.   There was a very interesting dynamic between Me, Three's voice and the sound of a female-sounding voice blending together nicely.   On track five, "In a Dream", you will feel like your eyes are closed as space robots come for you with their warped voice boxes.   This vocal sense of draggy & stretched out lyrics carried on throughout the whole record.   At times, the singing parts worked for me like on "Heart Magic" but then other times I was a bit disconnected.   I really loved the use of sound here that Me, Three really plays up will.   The Space Race provides futuristic grooves that are universally sound.   The mix of electronic & rock elements to go along with the space voyage music makes for one intriguing listen.   You will also experience a dance-oriented flow 'n' beat on "Our New Skin" plus some nice guitar playing on "Enemies".   On track 10, "Mathmakers", something didn't add up because I picked up on an instance where the vocal was not on pitch and off-key.   I even sense video game-sounding effects at times like on "Pattern Break" where I feel this would be a perfect time to play the science fiction game called The Space Race.   Push play…Get Ready…Blast off!!!
You are definitely in for treat when you hear this album for the first time because it's literally out of this world.   You will either be taking off from start to finish without any landing or you might be keeping your feet firmly planted on the ground.   This album requires more thought and maybe even a little more patience as Me, Three attempts to pull a rabbit out of his hat.   This space wizard only hopes that his magical music can have the same healing effect on listeners as it did for Alan Chesnutt when making this album.   For more on Me, Three and his new release The Space Race, SKOPE out www.methreemusic.com.
By Jimmy Rae (jrae@skopemag.com)
[Rating: 2.5/5]