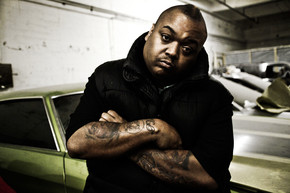 When people have a certain stereotype about you — whether it's the color of your skin, the clothes you wear, or even your taste in music — that image tends to stick. That is, of course, unless that image alters.
"I want to let everybody know that people could change…to a different style [etc.]," says Bizarre, well-known as the 'comedian' of D-12, who is the crazy, hilarious, and well, 'bizarre' member of the crew.
"Music is really about your emotions and what you've done at the time," he adds. "I have had the history of being a funny rapper, [but] I do a lot of stuff the group been doing."
True.
 
Music has been part of Bizarre's very core, as that is all he's dedicated himself to in his life.
"Since 5th grade I wanted to do music," says Bizarre. "Every paycheck [was spent] at the studio, going to New York, sleepin' on floors, in battles… doing whatever we could do to get over."
In order to unleash this "new" Bizarre, his third solo album, "Friday Night at St. Andrews," which was released in mid-May, gives an insight to his transformation. In fact, St. Andrews Music Hall in Detroit went through its own 'transformation', formerly known as being "a place for weirdos", and now being known as a "legendary musical landmark" — a place where some of the most-respected in the music industry performed, such as Iggy Pop and Lauryn Hill.
"St. Andrews back in the 'ol school…every Friday night we used to go through," Bizarre remembers. "My earliest memory [there] — I had just stepped in, there was so much going on, a lot of bright lights, people breakdancing, DJs spinning…it was a lot of fun. I was like 18 or something like that."
Noting that he's bringing music "back to the hip hop essence," Bizarre has not only some heavy hitters on the album, but also a slew of hometown Detroit producers that contributed to the disc.
"Rap's Finest" features a blow-for-blow spitfire collective of, well, some of 'rap's finest' — Kuniva of D-12, Royce Da 5'9, Seven The General, Young Mase and Redman. "Believer", which is the first single released on the album, features Tech N9ne, and gives a message to kids to "believe in themselves" and "to not give up on their dreams." (And might I add, Bizarre looks serious in the video, no shower cap this time!)  
Other cuts include "You Gotta Believe", featuring Monica Blaire, which is a "blueprint on how to get a record deal", and "School Teacher", a true story based upon the fantasies of a 5th grader that Bizarre feels pretty sure "goes out to a lot of guys".
"Don't just think that this is the typical Bizarre album, there's still some crazy shit on it, there's something on this album that everybody could like," adds Bizarre. "I got a couple songs that I put my heart and soul in this album (and) a lot of songs are true. The life experiences that I been through, when I was with D-12, from beginning to end."
And what is Bizarre up to now?
"I'm livin' that rock star life," he says.
For more information on Bizarre, check him out at www.bizarresworld.com.
Article By: Erika Gradecki – nextjam359@hotmail.com
Photo BY: Diwang Valdez