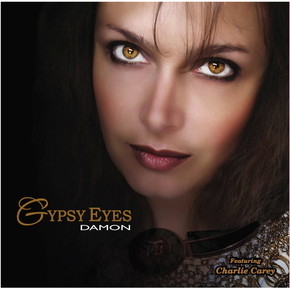 First off I want to wish all our USA readers a very happy 4th of July weekend. I have been waiting for the perfect time to unleash this feature story with an artist that inspires and excites me through his music & philosophies. It is my pleasure to introduce Damon The Gypsy. Damon has been very busy this year as he releases a gypsy trilogy of music from the past & present. The trilogy represents Damon over three decades of life and how he grows as a musician and as a person. With so much manufactured noise on the airwaves it's nice to know certain musicians still play from the heart!
Stoli: Where are we talking from today and what are your plans for the day?    
Damon: Well I just returned from the final day of filming for my new music video, "Dance Little Gypsy," shot in Fountain Valley, CA. Tomorrow we jump right into post production. It was a wonderful experience and I can't wait to release the final cut later this summer!
 
Stoli: Why did you take so much time between albums 'Song of a Gypsy' and 'Gypsy Eyes'?
Damon: It's important to take my time with the music, to really feel it and work until it completely sits right with me. Although the outcome is always exciting, I never felt the need to rush the release of my follow up CD, even after the success of my first album, 'Song Of A Gypsy.'
Stoli: How would you describe your mind state between recording and writing albums?  
Damon: During the time between the first and second album, I was going through a positive, life-altering change, which involved learning better ways to deal with the drawbacks of everyday life by leaning on God.   I went from self-destructive ways of living, to the discovery of Jesus Christ, which I am most grateful for.
Stoli: The music business has changed so much from when you started out to now. Do you see this as good change or negative?  
Damon: Like all things in life, change is inevitable, and at the risk of sounding trite, I feel everything happens for a reason. Although it's commonly viewed as negative change, the drastic reformation in the music business has created a strong platform for so many talented independent artists to shine and get the recognition they long for and deserve.
Stoli: What aspects of your everyday life inspire you to turn into song?    
Damon: Like most songwriters, I write from my heart.   I reach down inside and express my inner feelings through song. It's instant gratification drawn from inspiration on simple things in life.
Stoli: Who is the beautiful woman on the cover of 'Gypsy Eyes'?
Damon: Tamara Bauer, who I met at one of my concerts in Australia.   At first sight I realized that her eyes captured the essence of the song "Gypsy Eyes" and I asked her to send me a photo.   It turns out that she is a professional photographer, so it was great for both of us.
Stoli: In Europe a gypsy is looked at in a negative light. What is your definition of a gypsy and where did the connection develop in you?  
Damon: I think there's a little bit of gypsy in every musician. I explain it best in track 10, "History of the Gypsy," on the new Gypsy Eyes album. It is a folk lore story put to music.
Stoli: Are you planning on hitting the road in support of the new album?
Damon:   Ideally, I'd like to start a tour in the Southern California area and play festivals along the west coast, eventually working my way up north into Canada once the next album is released.
Stoli: Do you prefer recording in-studio or playing live in front of fans?  
Damon: Nothing can compare to playing live.   I draw energy from the audience and they naturally become part of the music, creating a whole new vibe and experience that feels mutually shared.
Stoli: How have you been able to keep your fan base loyal through all these years and still seeking out your music?  
Damon: I guess it comes down to the music reaching into their hearts, which is extremely rewarding to me as an artist. I also feel my sound has created a unique identity for myself as 'Damon The Gypsy.' I have also released my albums on vinyl and a new CD format called VHD, which allows me to continue to reach a broader fan base.
Stoli: When are you expecting to conclude the Gypsy Trilogy?    
Damon: The third release is planned for fall 2010.
Stoli: What is coming up for Damon The Gypsy and where can readers follow your next moves?
Damon: My new music video "Dance Little Gypsy" will soon be released. It's a fun track with positive message.   My website, www.damonthegypsy.com and my FaceBook fanpage will have all the latest updates.