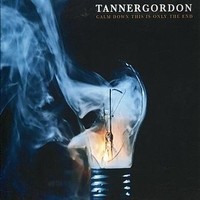 One would surely glean that the average teenager has a limited experience and understanding of "endings" (the end of high school does come to mind). But true Edmonton son Tanner Gordon isn't your average teenager. Far from it actually. Having been embroiled in music for most of his young life, he is a socially aware dynamo whose mere 19-years belie an old soul. His recently released full-length album of self-proclaimed "tattoo folk," continues in his vein of youthful exuberance and sage-like lyrical subject matter.
Born out of passing a homeless kid in Edmonton begging for change, Calm Down is a 10-track ode to endings. Title track and album opener "Calm Down" is made up of simple acoustic strums and a spoken word lyrical delivery before opening up to the oxymoronic chorus floodgate: "Calm down, calm down/ this is only the end." "Losing You" continues the thematic ethos of the album with Gordon crooning over his acoustic about the loss, or "end" of a relationship with a loved one. The track is reminiscent of The Verve's catchy and radio-friendly "Lucky Man." "Lynn" rounds out the album's musical scope with its down-tempo acoustic picking and eerie synth reverb. It is a ballad of self-contemplation and protagonist pleading via deep, earnest lyrical matter.
Gordon has offered up a jarring set of tracks from the darker, underbelly of folk. But this dimmer side of storytelling through verse is a heartfelt, honest view from a youth beyond his years. Poignant and substantial, the album as a whole may be a commentary on endings, but this is surely a highlight beginning in the career of a fledgling artist.      
by Chris West
[Rating: 3.5/5]