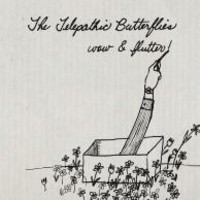 Like any good music fan, you've no doubt been stockpiling all your summery, guitar-driven pop chestnuts throughout the winter on playlists that won't see the light of day until your first trip to beach or the inaugural cheeseburger picnic. If there's any room left, save a spot in your eager eardrums for The Telepathic Butterflies. No, there isn't much that's very cerebrally redeeming on Wow & Flutter! Yet each of the ten tracks pack an immediate and accessible blend of Kinks-esque pop sensibilities and groovy, affable harmonies that will soak up and dispose of all your winter hatred.
On Wow & Flutter! The Telepathic Butterflies eschew the notion that constant evolution is necessary for rock and roll acts. There's very little progression from any of their three previous full-lengths; instead, the band works diligently to keep their guitar-driven pop perfection honest and cohesive. The ten tracks clock in at under half an hour, but for those thirty minutes, it's doubtful you'll have a care in the world.
What's even more noteable is that this gang of sonic do-gooders make their home in Winnipeg, of all places. If they can find enough hope in their frigid winters to pen a breezy clap-a-long like "A Call To Arms" or muster up enough patience in their unbearable summer heat to record the airy roller, "Lilacs," then perhaps we can all do our part to stop complaining about the weather and enjoy whatever the Sun Gods give us.
By Joshua Kloke
[Rating: 3/5]