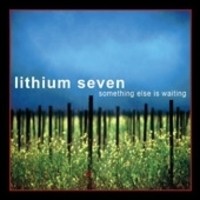 Lithium Seven prove that the musical bond cannot be broken on their new album, Something Else Is Waiting.   The chemistry is strong here as all four members mix together to make up one big compound that is Li 7.   The band's magic formula is further enhanced by their eclectic style that includes: pop, rock, alternative, singer/songwriter material and Americana.  
The group is composed of: singer/songwriters & guitarists–Shawn & Soren Gormley, multi-instrumentalist Jim Armstrong on vocals, bass, mandolin, keyboards & guitar and Jon Carroll on drums.   The bandmates play together perfectly in what I'd like to call a complete unity of sound & performance.   The artistry and musicianship displayed here is just right on the money.   Soren said it best when referring to the makeup of the band in that "We really connect to the concept of Lithium being an element that cannot exist by itself and needs to be with other elements."   This quartet from Dayton, Ohio does not get shaken and will not come unglued.   Lithium Seven stick together no matter what as one compliments the other and so on.   This chemical compound of Li 7 is made up of finely-tuned elements that fuse together nicely.  
The three-song EP may be short in length but goes the distance as far as material/ substance is concerned.   The track "Arizona" is a catchy, upbeat love song that Shawn wrote about coming to terms with the needs & wants of oneself.   On the song "Get To Montana", Li 7 gets things rockin' a bit with Soren's personal & reflective road trip coming to life right before your eyes.   You get the sense that this wasn't just any ordinary road trip for Soren Gormley but rather a deeper realization of people in general.   The old dirt roads less traveled are actually just the same as the busy streets of NYC.   In the end, no matter how different someone or something may seem to you or I; it's really just all the same.   On the title track, this idea that "Something Else Is Waiting" means that there just may be gold at the end of the rainbow for this talented bunch from Ohio.   This particular number comes across as light & subtle but also extremely direct & impactful.  
Through all three installments, you are hearing crisp 'n' clear vocals/lyrics that really add up to something special and really mean something.   The instrumentation really works here and the melodies/tunes are cool & resourceful.   It seems to me that Lithium Seven have created a winning formula with Something Else Is Waiting but now I'm excited to find out what's next!   For more on this musically-sound group and their new release, SKOPE out www.lithiumseven.com.  
By Jimmy Rae (jrae@skopemag.com)
[Rating: 4/5]