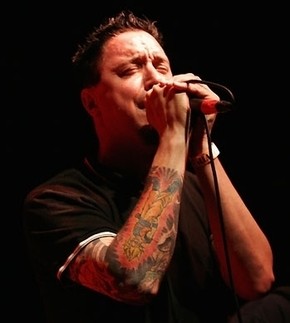 Trends come and go, but Sick Of It All has stood the test of time; waiving the flag of pure New York hardcore for the last 25 years- unwavering to the world around them. Selling hundreds of thousands of albums worldwide, and gaining a rabidly loyal fan base with a DIY work ethic and relentless touring, Sick Of It All have more than earned their status of legends in the hardcore scene.
Their musical influence on countless bands, can be heard all the way from Pantera to Fallout Boy. Seriously. So synonymous is Sick Of It All with the word "hardcore", that it's almost impossible to not see their dragon logo appear in your mind at the mere mention of the word. Currently touring behind their critically acclaimed ninth studio album, Based On A True Story, (out now on Century Media) Skope writer Matt Dalberth caught up with front man Lou Koller in Buffalo on May 8th , at The Town Ballroom.
Check Out Photos From Scott Stewart / Lou Koller Photo Shoot:
Tyrants and Based On A True Story) Are a real return to the aggressive roots of your classic albums Scratch The Surface and Just Look Around. Was this a conscience decision, or just the way the writing progressed?
Lou: It was just the way we progressed. The funny thing is, after Built To Last, what we consciously said was we don't want to remake the same records   again and again. At that time, everybody was about to start tuning their guitars down. Everybody wanted to be Hatebreed, and we just wanted to be different. We were like, "Lets just write songs and see what we come up with". The most freeing thing we did, was the Yours Truly record. That just gave us the confidence to not worry if everybody else is being heavy, lets show them all how we're heavy.
The track   "A Month Of Sundays" off of your new album, really captures the vibe of the CBGB's matinee shows of the 80's and early 90's. What show from that era really stands out as your fondest memory?
Oh there's so many…..The first time we headlined at CBGB's , or seeing Agnostic Front there for the first time back in '84 for sure. One of the most important shows there for me though, was back before we had our first album out. We played in Upstate New York in New Rochelle, and Pete (Koller- Sick Of It All guitarist)   got arrested. We had to have a benefit show at CBGB's to pay for the lawyer. The people that came out and the crowd was just amazing. Straight Ahead, Craig and Armand's old band, (Craig Setari and Armand Majidi, Sick Of It All's bass player and drummer respectively) got up and did an impromptu reunion. No practice at all, and it just blew the doors off the place, It was amazing. It still gives me goosebumps today just thinking about it.
Another memory I'll never forget and that we still laugh about, is when we were sharing a van with Agnostic Front, on our way to a gig some where a long long time ago. Vinnie (Stigma, Agnostic Front's guitar player) asked what time we had to play that night, and the show started at 9 o'clock. Vinnie looks up at the digital radio display on the dashboard of the van, and the radio station is tuned to 89.9. Out of nowhere, Vinnie yells out, "Holy shit, it's 899, its almost 9 o'clock already!" You never know with that guy if he is just playing dumb, or really is dumb, but he's a great guy.
I have seen so many bands do "the braveheart", (AKA, "the wall of death", where the crowd separates from left to right and charges at each other) in the last 10 years at shows. Being that Sick Of It All invented that, is it flattering, or does it annoy you to see so many copycats?
Its flattering when bands like Lamb Of God and Pennywise say, "Oh this is from the New York hardcore scene, or specifically   from Sick Of It All. That's really good. But then it gets weird to me. Somebody showed me on Youtube, a rap group that's on tour with the Insane Clown Posse, now does the braveheart. Seeig it being done to rap, it was just SO LAME! They split the crowd in half, and start doing this cheesy rap beat/ Then they all run at each other. It's like, "How dumb is that?"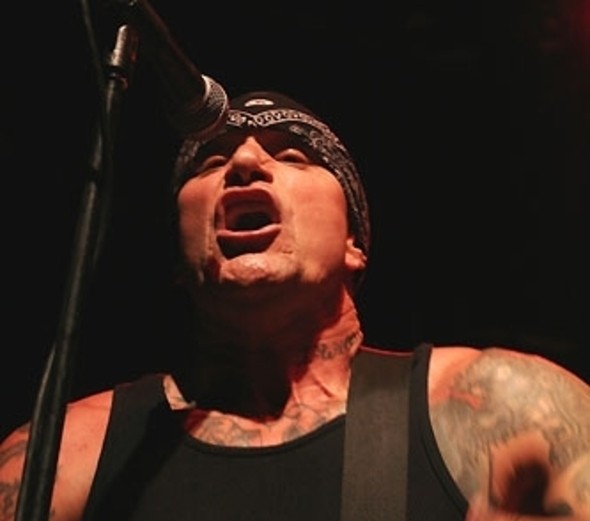 Is it in slow motion?
It looks like it should be in slow motion, I don't know what they're doing.
Aside from your peers like Madball and Agnostic Front, who have stood the test of time and are still relevant today, what's your take on today's hardcore scene?
There's a lot of good, I mean there's a lot of good bands that mix a lot of different genres. Bands like the Cancer Bats, I love their stuff. To me, its got that old Black Flag feel, but with a real dirty metal.
Almost like an Eyehategod, with some Black Flag…….
Yeah, that Southern metal. Same thing with Every Time I Die. They seem to be the ones to break that door open and add more rock into their sound. There iss still a lot of good young bands. You have to check out this band from Pennsylvania called My Turn To Win. Great straight up old hardcore, its fuckin great! The guy has a great voice and the songs are catchy.
One of the things that I love about Sick Of It All, is that you guys never lost the fun of hardcore. Hardcore really did get into this real tough guy vibe for awhile, and its cool to see you are still up there just having a good time. That's really what its all about.
Yeah, that's another thing we consciously do. The people in hardcore back in the day, Agnostic Front, Cro Mags, Murphy's Law, they were all tough guys, but they were fun. Murphy's Law especially. I loved all those old shows, but Murphy's Law always stood out to me because I had the best time. Sick Of It All wanted to take that aggressive release, like when we went to see Sheer Terror, but add in the total fun factor of Murphy's Law. Also though when you went to Sheer Terror shows, Paul the singer was hilarious. You don't really see that anymore.
I had the privilege of seeing Murphy's Law in Brooklyn at a Super Bowl Of Hardcore show like 4 years ago, and they we so much fun. They had their cheerleaders up onstage, it was a blast. The band Kickback from France opened up the show. They were good, but they were just so negative. It was good to see a band like Murphy's Law close out the night, and get up onstage and have a good time.
Negative bands like that, they kind of missed the point. Agnostic Front and Cro Mags were tough because they lived in shitty conditions. They didn't form bands and then become tough guys, and get into fights just so they could say that they're tough guys. They got into fights out of necessity. They were in bands to get away from all of that.
What bands do you regularly listen to, that would surprise a lot of people?
The Smiths, The Cure, AFI who are friends of mine, but mostly stuff like that, nothing really too off the wall. Armand listens to some weird ass shit. I'm more into punk and metal. Everybody thinks I'm joking when I say that I like Manowar, but I really do like Manowar. We saw them before their first album Battle Hymns came out, and I'll never forget, they put on some amazing shows. One of the best, was when we saw them opening for Motorhead, and Manowar just wiped the stage with Motorhead, and that's saying something dude.
Did they have their loin cloths?
Yeah!! We laughed at that, but when they played we were like, "Holy shit!"
What is the one song as a band do you wish you could retire from your live set, but would get too much shit from the fans for?
There's a bunch of them…."My Life", "Friends Like You", all the old ones. I'm over them, but fans love it. Years ago we actually tried to stop playing "Clobbering Time", and everybody went crazy. Our bass player Craig- he doesn't like it. He doesn't like to play that song. But we say, "Nope, you gotta play it, fans want it." Its only like thirty seconds long anyways.
When I put my Facebook status to say that I was interviewing Sick Of It All, I had six or seven people comment right away. "Oh its clobberin time!" Its like your signature song.

(Laughs) I guess Craig should accept the fact that it wont be retired from the live set anytime soon.
Armand has become pretty well known for his amazing caricatures he does of you guys. Any plans to use them on Sick Of It All merchandise?
I don't know, we always thought about it, but its too embarrassing!
I love the one where you're like a big banana……..
I'm an angry banana!
And Craig has like 900 teeth………
He draws Craig like a vampire alien. Armand draws himself either like a fireplug, or a thumb.
Written By: Matt Dalberth
Photos By: Scott Stewart