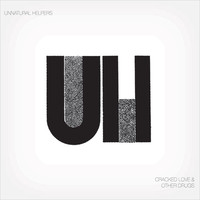 Unnatural Helpers aren't so much a supergroup as they are a righteous collective of some of the most talented, unknown musicians from the Pacific Northwest. So perhaps they are the forested, laid-back version of Them Crooked Vultures, though you wouldn't know it from the driving, edgy rock that permeates throughout Cracked Love & Other Drugs, their debut.
Combining some serious art-punk with greasy tinges of class rock, without any air of taking themselves too seriously, Unnatural Helpers, the brainchild Dean Whitmore, manage to bang out 15 heavy, tangible tunes in well under half an hour. If anything, these guys will not leave a sour taste in your mouth. Instead, they'll leave you pining for more, like on the pulsating groove of "Brave Dumb Face."
"Our Most Entitled" is just as ragged, but at a minute and a quarter, tracks like these, which litter Cracked Love & Other Drugs will only give you a chance for a breather and a fresh beer. And rest assured, this is not a bad thing. The only thing "Super" about this collective is their persistence and their ability to stay true to the sweaty clubs which these musicians have called home for so long.
By Joshua Kloke
[Rating: 3.5/5]