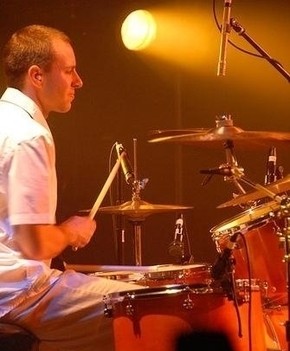 One of my favorite local bands from the 60's were the Sir Raleighs.   My good friend Mike Comer was in this group that my girlfriends and I followed around to local venues.   We lost touch for a number of years but recently got together and found out that Michaels son Lance, is a drummer.   He was also part of the start of "The New Congress" ,   one of my current favorite local bands.   I asked Lance about his career.
I started out occasionally sitting in with my dad's bands from the time I was about 4 years old until around 16. At that point my dad was asked to be in a young Elvis tribute act that was being formed, and recommended me for the gig as well, so that became   my first professional gig. At the same time, I became the drummer for my dad's working band at the time, the East Side Kids. We were the house band at a club in St. Paul, MN called Pebbles, and played 6 nights a week for about 2 years. That's where I was really able to hone my chops night after night. We played everything from Led Zeppelin to Patsy Cline. If you requested it, we played it! There were no restrictions, so I was able to experiment and try out a lot of things musically.
My first "big" gig came when I auditioned for one of the major bands in the Twin Cities at that time, Big John Dickerson and Down Right Tight. I heard there were over 30 drummers that auditioned, so I was blessed to get the gig. At that time I was just 18 years old. We had TV and radio ads out as we were sponsored by a major beer company, so that was also my first exposure to recording in that environment.
After that I played with Inside Straight blues band for a couple of years.
Then I got a call to play a reggae show in Omaha, Nebraska with the legendary Ipso Facto one weekend in 1997. I did the gig (never having played any reggae in my life). Long story short, the band liked me, so I began to play regularly with them. That opened up the door for the gig with reggae band Les Exodus in 1998, with whom I became the drummer for the next 8 years. In that time, I continually worked with reggae artists Prince Jabba, Lynval Jackson, Innocent, Shangoya, and the International Reggae All Stars, playing about 150 shows per year from Denver to Minneapolis to Chicago.
In 2005, I was a founding member of The New Congress, and played with them weekly at Bunkers until I left Minneapolis.
Backtrack to June, 1999. Another aspect of my life completely changed when I gave my life to Jesus Christ. That heart decision led to a desire to worship my Creator and Savior, and I was fortunate to get connected to several churches with amazing music ministries. It was an entirely new musical experience for me, and I have since played drums 2-3 weekends per month at various churches for the last 11 years.    
After playing approximately 240 shows per year for 13 years, in early 2006, I moved to New York City. Upon my arrival, I did many gigs with Kacie Sheik (sister of Grammy and Tony winner, Duncan Sheik), and in 2007 I did a 6 week US tour with rappers MC Frontalot and MC Lars. In 2008 I did a 3 week European tour, and many stateside gigs with world beat band Kokolo.
I am now regularly working in a band called Cat Lingo, fronted by Julio Fernandez, guitarist for Spyro Gyra. Working with Julio has been a dream realized for me, as I've long considered Spyro Gyra one of the greatest bands around since my dad first introduced me to their music back in the 80's.
I am playing most Friday nights at Times Square Church in Manhattan, and most weekends are consumed with a high-profile corporate band based on Long Island.
www.myspace.com/lancecomer
 
Written By: Diana Olson – diolson05@yahoo.com