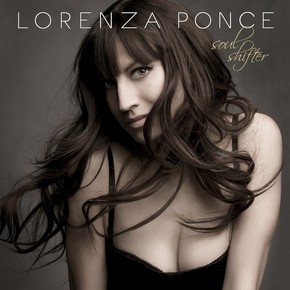 I am feeling in a mellow yet soulful mood today and my next guest could not be any better fit. If there is one thing that I respect in a musician it's work ethic. Lorenza Ponce takes work ethic to the next level. Lorenza has done so much as a vocalist, violinist, and live performer working with such acts as Bon Jovi, Sheryl Crow & Neil Young, just to name a few. I decided to invite Lorenza after listening to her new album, 'Soul Shifter' all last week. I could rave about her all week but lets just pour a bottle of Merlot and let Lorenza Ponce take it away!
Stoli: Where are you right now and what do you have going on this week?
Lorenza Ponce: I am in NY and I have to play a corporate job this week.
 
Stoli: How long were you busy writing and recording 'Soul Shifter'?
Lorenza Ponce: Soul Shifter took 4 years to write and record, mainly because I went on the road with Sheryl Crow, Hall and Oates, and Bon Jovi while I was trying to make the record. It's a lot. All you want to do when you come home from the road is hang on the couch, but I had to make myself work because I felt really strongly about this record.
Stoli: This is your fifth solo record. What helps inspire you to constantly create & write new music?
Lorenza Ponce: Ha! I have no choice. When songs run through your head 24/7 you either get them onto paper or you freak out. That's the way it's always been, even when I was a kid.
Stoli: You are an incredible violinist as well. Did you realize you had a great voice before or after you learned the violin?
Lorenza Ponce: Definitely AFTER the violin. That was difficult, because my ear was trained to expect a certain level of proficiency in all things music, and my voice hadn't quite caught up yet. I would sing and people enjoyed it but I never enjoyed it. I am finally starting to enjoy the sound of my own voice and I thoroughly loved performing my album release show that I just had at the end of May.
Stoli: I love how you merge various genres on this album. Was that your plan or did it just happen that way?
Lorenza Ponce: It just happened. I never have a plan. I just write what I feel. In fact I was worried about the fact that I have so many influences, and therefore the song styles were so varied. My producer, Matt Wells is the one that convinced me that it was OK and even desirable to let people see all my different sides. He pointed out that the Beatles records were always very eclectic. Can't argue with the Beatles.
Stoli: Matt Wells produced this album. Please take us inside what a recording session is when you & Matt are working together?
Uh oh… put away the china! lol When he first started producing me I was   very resistant. I have always had a huge say in all my records, but Matt pointed out early on that I really didn't know how to get the result I desired from this record because I just didn't have the knowledge and history, so I had better listen, for a change. He was right, of course. Matt is an expert in vintage gear and amplifiers, and classic recording techniques such as old mics and placement, vintage outboard gear, and tape, as opposed to digital pro-tools.   He knew I wanted my record to sound reminiscent of the records from the 60's and 70's. Warm, real, not over "pro-tooled."
Matt also believes in capturing a "performance" as opposed to getting a "correct" track. All the basic tracks were recorded together as a band. We played them until we captured the right performance. We were really making music. We had great players and it was really a high.
When it came to me he also went for the "performance". He was very encouraging. He knew when I could do better, either with the writing, vocal and violin performances, or arrangements, and he would make me do it until it was as good as I was going to get it. Being an artist is an ongoing process if you practice and try to perfect your craft. I know I'll be even better on my next record, but you have to know when it's good enough for this moment in your life.
Stoli: You are a sexy & beautful woman. Does it bother you if people judge you on that and not on your musical ability?
Lorenza Ponce: Thank you for the compliment. I have definitely been judged on my looks rather than musical ability and it hasn't been easy, but thanks to the internet and the availability of information, more and more people are seeing my resume!   The criticism always seemed to happen when I played in a man's band, like when I worked for John Tesh, or Bon jovi.   When I worked for women, like Sheryl Crow, or The Dixie Chicks I never heard anything about my looks, just that I was a cool chick,   which I always found curious. I have a much thicker skin, though, after touring with Bon Jovi. I don't have time for pettiness.
Lorenza Ponce "Baby Please Don't Go" MP3:
Stoli: You have toured & worked with the biggest names in music like Sheryl Crow & Bon Jovi just to name a few. What have you learned the most from being around stars like that?
Lorenza Ponce: Discipline. I always thought I was a hard worker, but then I saw the work ethic of my very successful employers. I learned that I better practice violin, guitar, mandolin, voice, and piano every day, write music, answer emails, work out, and try to be creative with my career if I wanted to continue to have one.
 
Stoli: I love track 4, "Frostbite." What inspired you to write that song & will there be a video as well?
Lorenza Ponce: Thank you. I love that track as well. That song is about the games people play in love. It can be pretty cruel. I observe people and their actions. Some of the things people do to each other, that supposedly care for each other, or at one time cared for each other, is mind boggling.  
I hope to make a video of that song. I even know who I want to make it, but he's expensive, so I have to figure it out. Might be time to buy a lottery ticket!
Stoli: When you are not doing music what do you like to do on your off days?
Lorenza Ponce: I love art galleries and museums. One of my favorite things to do when I am on tour is to go to the art museum in the town I am in. I would say I was "going in search of beauty." It kept me grounded.   I still do that when I am at home.   I also love to cook and drink wine with friends, watch movies, and read.
Stoli: What is coming up for Lorenza and where can Skope readers follow you online?
Lorenza Ponce: My record "Soul Shifter" has just been released so I feel like I'm just getting started with getting the word out. It's a slow burn. I want to do some touring in the winter and spring, plus, I am writing the next record. It's already halfway finished, so I will release that next summer.
My website is all things Lorenza: www.lorenzaponce.com and I invite everyone to hang out with me on Facebook and Twitter. The links are on my website.   I love talking to my fans on the social networks. I am a fan of my fans! They are really fabulous people! Everyone's got a story.