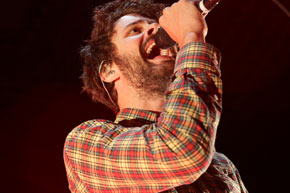 Cambridge, Massachusetts natives Passion Pit hit the stage at Atlanta's Tabernacle Wednesday night to frantic applause from the adoring crowd.

It was surprising that so many people had come out to see this fairly new band. In the short two years Passion Pit have actually been making music they have managed to garner a strong following. The blogosphere, webzines and media outlets like Spin and Pitchfork have praised their work helping to get them quick exposure and acceptance. They have one full length album to their credit, Manners, which is a electro pop effort with intricately layered synthesizer melodies, thumping drum beats, and electronic samples as a backdrop to Michael Angelakos's falsetto vocals.
Angelekos was kinetic, not standing still for very long, pacing from side to side on the stage emphatically singing his high pitched lyrics. Songs written with the memories of heartbreak but hopeful for newly kindled romances are the domain of Passion Pit. The sentimentality of the verses is transposed on top of flamboyant dance music. The infectious beats echoing through the bodies in the crowded venue inspired the audience to move enthusiastically to the music. All the bodies and movement made that place heat up. Angelakos mentioned how hot is was in there. He was dressed in a plaid shirt and sported a beard and messy, uncombed hair. It was quite easily about 90 degrees but Angelakos kept on going at full speed.   The steamy temperature didn't stop the crowd from dancing and singing along to choruses on songs like "Moth's Wings".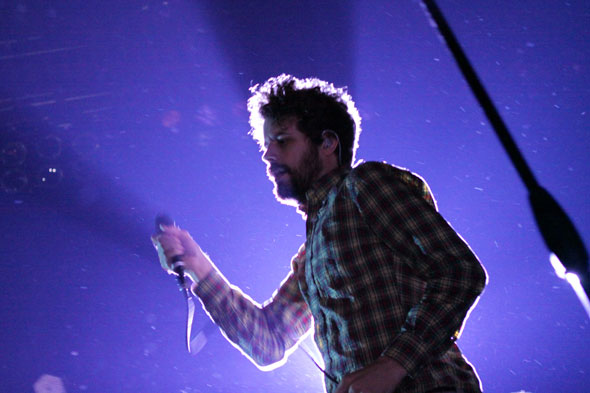 There were screams and hollers from the audience. Angelakos engaged the crowd asking if  they wanted to sing and it seemed that all the females in attendance knew the lyrics by heart. Singing led to clapping in unison during the emotional peaks of each song. Next was the down tempo "To Kingdom Come".   Angelakos announced that this was the best crowd on tour. They energetically launched into "Let Your Love Grow Tall" with driving drums building to a crescendo with sustained and expressive vocals as the instrumentals burst into a melodic cacophony.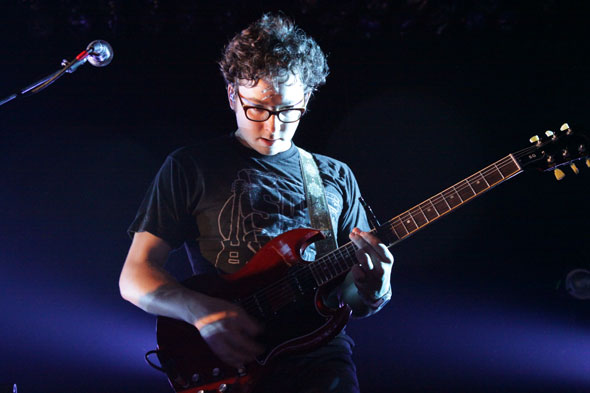 Next was "Reeling " with it's brooding and sexy beat. There was heavy synth and staccato keyboard on "Folds In Your Hands" which segued into heavy electronic samples; very dancey with spaced out blips and digital samples. Everyone put there hands in the air for "Smile Upon Me" which was laced with arcade machine samples. The song evolved into rapid video game keyboard melodies and Angelakos pounded on the bongos.   As they wrapped up that song he observed "There are a lot of tired and thirsty people out there". He dedicated the next song "Little Secrets" to opening act Tokyo Police Club. The chorus of "higher and higher" washed over the crowd as all the female voices converged in unison and filled the upper reaches of the expansive performance hall.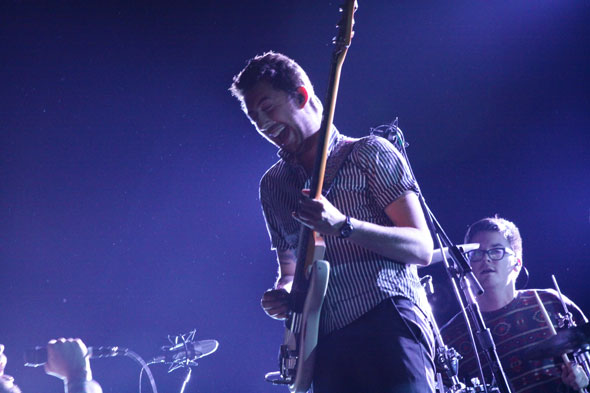 The encore began with Angelakos sitting at the keyboard playing the sentimental "Eyes as Candles". They offered a special treat and surprise with a cover of the Cranberries "Dreams". They closed the night with their most popular single "Sleepyhead".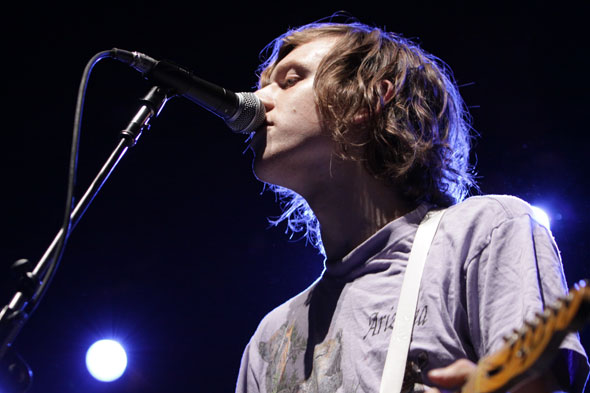 Canadian natives Tokyo Police Club opened for Passion Pit. It was a short set and was not as compelling as another performance that I covered back in 2008. Second song was the clangy and reverb soaked "Nature of the Experiment". "Breakneck Speed" of off their new album Champ was a stand out track with it's wavering vocals and youthful and optimistic lyrics. "Boots of Danger" seemed rushed and noisy with an unsettling urgency. TPC are a rollicking and clangorous band that usually exhibit a fresh and youthful energy which was lacking that night. "Your English Is Good" was up-tempo with some plaintive vocals. On "Be Good"   there was distortion heavy guitar with metallic flourishes.
Passion Pit Setlist
I've Got Your Number
Make Light
Better Things
Moth's Wings
Swimming in the Flood
To Kingdom Come
Let Your Love Grow Tall
The Reeling
Folds in Your Hands
Smile Upon Me
Little Secrets
Encore:
Eyes as Candles
Dreams (The Cranberries cover)
Sleepyhead
Tokyo Police Club Setlist
Favourite Food
Nature of the Experiment
Favorite Colour
If It Works
Tessallate
End of a Spark
Graves
Citizens of Tomorrow
Breakneck Spead
Boots of Danger
Your English Is Good
Be Good