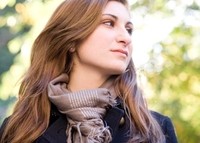 No stranger to acclaim, rising pop princess Catalina was named to 2008s list of National High School Teen Idols, made an appearance on the national morning show Fox and Friends and received invites to perform at the September 11th Memorial and the Victims of Violent Crime Gala along side Gloria Gaynor. Now the up-and-comer is set to add to her list of accolades with the release of her self-titled debut album.
Warning to diabetics… this is sugary pop at its finest. Catalina has mastered the art of the three-minute, radio-friendly, lovelorn track all the way down to the note. Lyrically, the subject matter appeals to a niche teener demographic with tales of relationships, lost love and the like. Not the first time this approach has been tried and certainly not the last. The album opens with single "I Hate It", which features Catalina's vocal prowess over backing electric guitar and percussion and contains just the right amount of Avril Lavigne angst. "Like I Care" resides in a Taylor Swift-ish theme with cautionary overtones of break up and how things change once time is applied to the equation. "Optimism run amok" is the ethos of "I Want To Live." Acoustic strums and slight electronica bolster Catalina's vocal range on arguably the catchiest tune on the album.
Though a fledgling career for now, Catalina has something that stands out in a veritable ocean of young pop singers. Be it some type of New Jersey moxie or the typical fearlessness that comes with being 17, throughout the six tracks, Catalina is believable (maybe it stems from the fact that at her age not only is she singing about the subject matter but probably living it too). But for the album as a whole–mass appeal? Time will tell. High school girl's iPod? A must have. Certainly a diggable and respectable first outing if this genre is your thing.    
by Chris West
[Rating: 3/5]