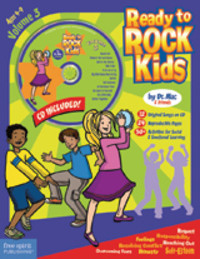 Get ready for the third installment of children's songs that teaches valuable life lessons.   Dr. Mac is the genius behind the Ready to Rock Kids series and before you ask, yes he is an actual doctor.   The singer/songwriter/producer is also known as Don MacMannis, Ph.D. and for many years he has been a clinical child and family psychologist as Clinical Director of the Family Therapy Institute of Santa Barbara, California.   Dr. Mac's professional attributes don't stop there as he also takes on the role of a school consultant, lecturer, award-winning songwriter and writer & director of music for the PBS hit, Jay Jay the Jet Plane.   His work and teachings have been featured in national newspapers, magazines and radio programs such as: CNN, Time Magazine, Inside Edition, Time for Kids, AOL and At-Home Live.   Don MacMannis, Ph.D. started writing/recording children's music back in the 90s with the help of Grammy winner Christopher Cross and his band.   Dr. Mac has not looked back as he continues to bring you professionally-done kids tunes with important messages.   Of course, children and families alike can ALL enjoy the intervention of music created by Dr. Mac & Friends.   CALLING ALL KIDS…CALLING ALL KIDS—Get ready to rock & roll and have fun while you learn because this is exactly what the doctor ordered.  
The beauty of this new project is that it entertains but also supports a child's social & emotional development at the same time.   The new album helps kids interact better in social situations no matter where they may be, what the situation is and who they are interacting with.   The record also touches on the emotional side of children, which is why the CD has such a happy & positive vibe.   Kids should always be smiling & having fun, but they also need to be learning how to deal with tough challenges.   Children of all ages are naturally innocent and usually are very cute, funny and silly and the secret is to consistently keep them in that joyous state.   Dr. Mac & company have figured out a winning formula here that is proven to be successful with Ready to Rock Kids, Vol. 3.  
Besides being educational and fun-spirited music, the new disc also comes with an activity book for ages 4-9 that will provide maximum enjoyment.   What kid doesn't like his or her own colorful activity book to play with!   One other thing, this isn't just your ordinary, average kiddie music that annoys parents after awhile.   This piece of work is actually quite impressive in that it is a full production of professionally done music mixed with lyrics & themes catered toward a child's mind.   There is also an incredible array of musical styles displayed here such as: pop, rock, dance, hip-hop, a little taste of tango on song four "Talk It Out" and even a 50s style doo-wop performance on track nine, "At The Same Time".   Not to mention, there are a number of instruments being played here with the crisp & solid guitar playing standing out to me.  
Dr. Mac has invited a lot of talented people to be a part of this special project including some sensational singers like: Lois Mahalia (who was featured as the lead singer on Vol. 2's "Gift of Giving") and Eje Lyn-Jacobs.   The doctor also brings on an artist by the name of Craig Dobbin as well as his on-going collaborator Brian Mann who is co-writer, co-producer, arranger, keyboardist and accordionist.   Mann has worked with the likes of Michael McDonald and Kenny Loggins for many years.  
The standout moments for me on this record were all of the incredibly talented kids simply singing their little hearts out.   The children's chorus is to die for with wonderful harmonizing and voices that will just blow you away.   I'm not kidding around folks; these kids can really sing!   I was most impressed with their solos and group harmonies that really seemed to come together nicely.   I'd also like to add that the children were so animate and the production was done in such a manner that it felt theatrical at times.   I can picture an all-out children's musical here that I believe would be a smash hit!   I have to say that if I was a parent and I heard my son or daughter sing the way he or she did on this recording, I would be proud beyond words.   All of you young ones on the record get my seal of approval for achieving excellence and I want you to know that.   I am blown away and taken aback at how gifted & talented you ALL are.   Bright futures ahead for ALL of you and I just want to say WAY TO GO on a job well done.   I want to further make your day kids by listing ALL of your names here because you ALL deserve proper recognition, so here you go:   Emma Steinkellner, Olivia Fanaro, Allison Lewis, Sam Kulchin, Briggs Boss, Anya Ruskin, Alexandra Varner, Nya Burke, Aaron Linker, Kelly Adams, Addison Mills, Alden Crowe, Carlin Traxler, Kelci Hahn, Jeffrey Bell, Feliz Morelli, Elliot Crowe and Patrick McKenzie.   I hope you enjoy that and once again awesome job!
It's nice to know that people still care about our future generations out there to the point where they want to make long-lasting impressions.   Dr. Mac & Friends are doing just that by positively shaping young minds forever.   I commend you Dr. Mac for your work and for your valiant efforts to help make this world a better place for our children of tomorrow.   For more on Big Mac & his Friends along with the new release, SKOPE out www.drmacmusic.com.  
By Jimmy Rae (jrae@skopemag.com)
[Rating: 5/5]