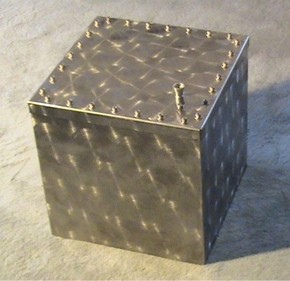 Normally I'm not keen on the idea of nostalgia but I think it is okay nowadays concerning music because the music industry is as stable as Courtney Love's mental status. As I mentioned in my earlier post, the recent demise of record stores and the popularity of downloading songs from the internet has made the full length album less pertinent than ever.
Thus, my idea to keep albums and cds alive for a long while was to put good music recordings in a time capsule so future generations can enjoy it. Of course, my actually doing this won't happen because 1) I'm lazy and 2) I don't want to give up my music collection.
Nevertheless, I'm going to write a series of articles about recordings that I think are good enough to put in a time capsule. Hopefully, you are familiar with the stuff I have chosen. If not, do yourself a favor and check my recommendations out.
If you like what you hear, I recommend you to go to a record store and buy the recording or order a physical copy from the internet. Believe me, it sounds better that way. However, if you can't do that for whatever reason, downloading from Itunes or Amazon will do because even mediocre sounding mp3s of good music is better than nothing.
Okay, here's VOLUME ONE of THE TIME CAPSULE and it includes three recordings–one, a classic rock masterpiece; another a hip hop piece of art; and the other, an alternative pop/rock surprise.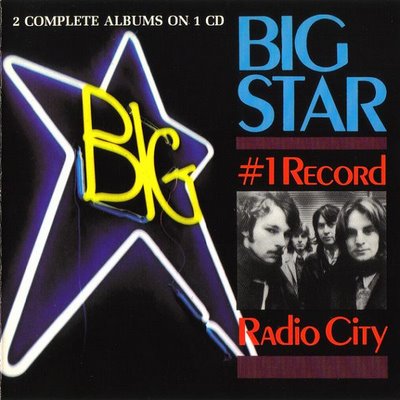 THE CLASSIC ROCK MASTERPIECE-BIG STAR'S #1 RECORD/RADIO CITY
If you ask musicians to name one of the most influential acts in pop music, there would be the usual answers of the Beatles and the Stones but there also would be many naming the Memphis band Big Star to be just as important.
This is most interesting because Big Star, which was co-founded by Alex Chilton and Chris Bell, only released four proper albums and they sold as well as a bunch of Taylor Swift cds would at a heavy metal convention. Still, it is easy to see why musicians love Chilton and company as the band's music features both powerful pop melodies and ragged guitar hooks that would make any songwriter jealous.
Big Star's finest moment, without a doubt, is its first two records, #1 Record and Radio City, which were released in 1972 and 1974 respectively but are now currently available on one cd. What makes both records special is the fact that the American band was especially diverse. It could sound like the Beatles or the Byrds one moment and then like the Who or the Kinks the next.
Best of all, however, is the band forged its sound into something original and became a tremendous icon for later alternative music. This is mostly due to the exceptional songwriting which is heard on gems both quiet (the uplifting "The Ballad of El Goodo" and the gorgeous "Thirteen") and loud (the guitar-driven "In the Street" and the punkish "Don't Lie to Me.")
Surprisingly, the quality of the music here is top-notch all the way throughout. Most of the songs are less than three minutes each and that is perfect because it lets the listener breathe in a bunch of tracks (26) that get to the point without studio tricks and boring experimentation. This makes #1 Record and Radio City one of the most compelling rock releases ever.
Artist update: While Big Star broke up in the mid 70s, the band under Alex Chilton's direction saw a resurgence of late. After periodic reunion shows in the 90s, the band released its fourth album in 2005 and a box set in 2009. Also, it was getting ready to play some shows this year but those much anticipated gigs turned out to be only a dream as Chilton unexpectedly died from heart problems recently.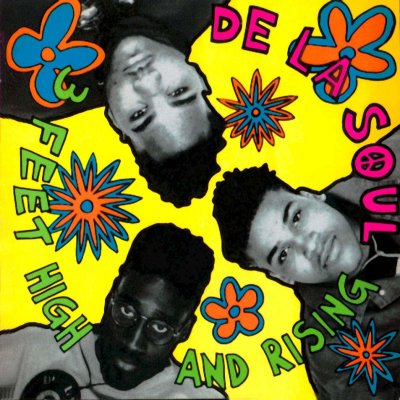 THE HIP HOP AS ART ALBUM- DE LA SOUL'S 3 FEET HIGH AND RISING
When people talk today about landmark hip hop recordings, they bring up the usual suspects such as Notorious B.I.G.'s Ready to Die, Tupac's All Eyez on Me, and Jay-Z's The Blueprint. However, one equally important recording shamefully gets neglected and that is De La Soul's 3 Feet High and Rising.
Why De La Soul's debut, which was released in 1989, gets less love nowadays is puzzling because it actually was a bit popular back in the day. There was a hit single ("Me Myself and I") on it and the critics adored it from the outset.
Regardless, 3 Feet High and Rising still sounds great today because it confirms that hip hop can be a viable work of art. Proof of this comes from the inspired use of sampling on the majority of the tracks.
Unlike a lot of hit hip hop songs that steal the entire hook from one song and use it ad nauseam, tracks like "The Magic Number" and "Cool Breeze on the Rocks" sample small pieces from numerous artists that normally don't seem like that they might mesh together. As a result, you can hear James Brown, Johnny Cash, and Led Zeppelin together in one song.
As for 3 Feet High and Rising's lyrics which are laid down by rappers Posdnuos and Trugoy the Dove, well, they are about as controversial as Justin Bieber flirting with women old enough to be his mother. Nevertheless, the rhymes on De La Soul's debut album are positive, intelligent, and entertaining.
All that said, the fantastic production and arrangements on 3 Feet High and Rising is the real reason why it's a hip hop classic. With help from producer Prince Paul, De La Soul-which also included DJ Pasemaster Pace-let it all loose by creating an artful sound collage that combined the usual funk and R'n'B associated with hip hop and mixed it along with pop, rock, and jazz elements.
Artist Update: De La Soul has consistently released an album every 3-4 years since its debut but none as regarded as highly. Their most notable contribution of late was a collaboration with the Gorillaz in 2005 on the hit single "Feel Good Inc" which won the group a Grammy.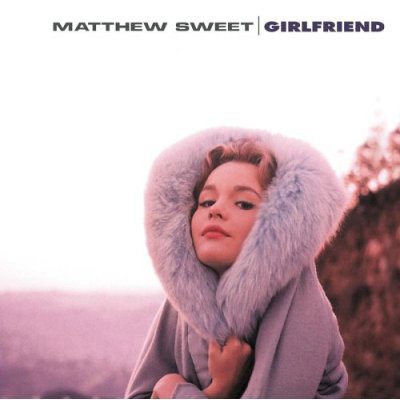 THE ALTERNATIVE ROCK SURPRISE-MATTHEW SWEET'S GIRLFRIEND
Rock music in the early 90s is mostly remembered as a time when grunge ruled and made the flannel shirt surprisingly hip for about two minutes. However, what is easy to forget about that era is that while Pearl Jam and Nirvana were making the biggest waves, there were still other types of alternative rock being released.
Straight up guitar pop/rock was one type and it produced one of the liveliest records of the day in Matthew Sweet's Girlfriend. Released in 1991, Girlfriend is one of the most underrated rock recordings of the past twenty years. Sure, the title track was a hit on modern rock radio but the album itself only reached #100 on the Billboard Album charts.
That dismal charting is a shame because Girlfriend is Sweet's ode to classic pop but it is driven with loud, beautiful guitars and stellar lyrics about relationships. While the songs here aren't as dark as those associated with grunge or cheery like your normal pop, there was a nice bite to them thanks to the fine guitar work by guests Richard Lloyd and Robert Quine. The title track definitely kicks ass and "Evangeline" features some impressive guitar solos too.
What is most surprising though is how great Girlfriend is even in its quieter moments. "Winona" sprinkles a country influence into a straight pop ballad and Sweet's vocals are among his sweetest ever while the closing track "Nothing Lasts" is basically one of the most fragile love songs ever.
Still, what makes Girlfriend a downright keeper are the guitar-driven numbers like "I've Been Waiting" and "Looking at the Sun" with their glorious melodies and unforgettable choruses. It is still hard to believe some of these songs didn't compete more with the grunge music that was so popular back then.
Artist update: Sweet continued his run of good solo releases in the 90s including the underrated 100% Fun but he mostly remained a well-regarded cult artist. He still makes music today with his latest project revolving around performing with Susanna Hoffs of Bangles fame. The two released a covers filled cd last year.
By Matt Sikorski – sikors5@aol.com