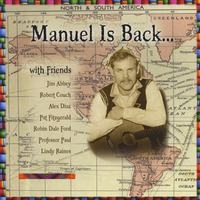 Manuel Bruce (pronounced Broo-say) is the man behind this new project that includes SO MUCH!   The CD offers wonderful instrumentals, original material and covers that will leave you wanting more.   Bottom line, this new record is just all about the music and that's it!
On this album, you are getting a wide range of styles/influences that include: blues, folk/Americana, South American music and even classic rock.   And of course Manuel couldn't have done it without his friends who helped make this record a very special one.   Instrumentalists on the disc include: 30 year music vet, Alejandro Diaz on guitar, mandolin and other stringed instruments, Lindy Raines on guitar, Jim Abbey on sax, well-known "Nashville picker" Robert Couch along with blues singer & piano player Professor Paul.   Singer/Songwriter, Manuel Bruce, handles vocals, guitar, harmonica, pan flute and even sings harmony on all songs that he doesn't sing lead on.   Bruce's new work includes five original pieces to go along with wonderful renditions of Santo & Johnny's "Sleepwalk", the Sam Cooke classic "You Send Me", the Brazilian gem "Manha De Carnaval" and "Recuerdos De Alhambra, which was originally written as a solo classical guitar piece but now done with mandolin and flute.   Bruce goes between homes in Fairbanks, Alaska and Tucson, Arizona plus also has several years experience playing in Peru and Bolivia.   The mixture of all the musicians and their different backgrounds playing their instruments together is really something to hear.
The CD starts up with a feel-good vibe right off the bat with "Can't Go To Work Anymore".   On this number, you're getting a classic charm & vintage style to go along with a light-hearted approach.   Something else very interesting here is how Manuel appears to be playing to the tune of something I'd like to refer to as happy blues.   This track exhibits definite bluesy elements, but not your old-time, Delta blues style by any means.   Singing blues in a happy note rather than pouring your heart out with sadness & despair.   Completely different approach here to blues music and I simply loved how Manuel flipped it and reversed the blues notion on us.   This sense of happy-go-lucky blues shows up again on track three, "I Feel So Good" that includes a stand out performance from Bruce on his famous harmonica to go along with nice harmonies.   On song two, "Hot Chicken Soup", Manuel & Friends give us a dose of funny with some jokester lines but coming strong with fine sax and guitar playing.   On the instrumental "Nostalgia", you're hearing a heavy South American influence that is hot 'n' spicy and bursting with flavor.   On installment six, "Sleepwalk", this Santo & Johnny cover brings me back to the classic movie La Bamba.   All instrumentalists, with major emphasis on the guitars & harmonica, are simply making magic here.   Bruce & Friends are playing it up BIG and they are giving you an all-around great version of "Sleepwalk".   Next up on "Moose Trax", you experience some rockin' blues with a fun & lively instrumental.   I was seriously shakin' my head on this song as this number really moves.   On "La Lechera" (The Milkmaid), you'll dance a jig and twist & turn while on "Melody of Love", you'll witness the harmonica stealing the show during the first half of the song and the guitars taking over during the second part.   On track 11, "You Send Me", the guys really do the Sam Cooke classic extreme justice.   Manuel and his musical compadres are takin' you back in stellar fashion as they play their hearts out here.   The group harmonizing sounds superb and the lead vocals are spot on and all I have to say is play it again boys!   All in all, Manuel and his team nailed "You Send Me" with an excellent version that would make Sam Cooke very proud.   On the closing song "Going to New York", you're jivin' along to New York where one lyric states "I'm goin' if I have to walk".   I say let's go; I'm with you guys all the way!  
I was literally blown away with all the fine playing displayed by each member on this recording session.   The instrumentals stand out to me as being the shining moments on this record–hands down!   I was very impressed with how well each song was performed, which showed excellent musicianship & artistry.   The entire project is highly creative, original, fun and full of life.   You'll love this record from beginning to end if you're just a true fan of good, well-put-together music.   I could almost make this guarantee, but I'll leave it up for you to decide.   If you're looking for quality and well-written material, then look no further because Manuel Is Back With Friends is your drug of choice.    
By Jimmy Rae (jrae@skopemag.com)
[Rating: 4.5/5]