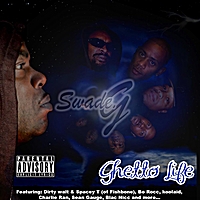 Get ready for Swade G as he pumps your ears with funky 'n' fresh flavor on the new album, Ghetto Life.   Born Wade Kibby, Swade has decided to step out of the shadows to come hard with his debut record.   His older brother is actually "Dirty Walt" Kibby, who is the co-founder of Fishbone and now a member of Year of the Dragon.   G's brother has definitely showed him the ropes along the way and Swade has even helped "Dirty Walt" with his side project by co-writing & producing certain tracks.   Now Swade has an album that he can call his own finally while giving much thanks and props to his brother, Walt.  
On the new recording, Swade G handles the vocals and most of the instruments while Compton-based rapper, Kool Aid takes care of the rhymes.   There are also some special guests featured on the new record that helped by adding their own talents/skills to the mix.   If you like a mixture of funk, rap, hip-hop and R&B Soul, then you will love Ghetto Life!   The G funk era and funk era combine here to make up Swade G's persona.   It makes sense when you hear that G's influences include: Rick James, George Clinton and Warren G just to name a few.   Swade brings to you some funky rap tracks that you can groove to and bob your head to.
Right off the bat on the opener, "Dirty Walt", you experience bouncin'-off-the-ceiling jamz that are coming straight for you.   Swade gets you pumped up right from the start with some tight rhymes and even tighter beats.   In the words of rapper Nelly, I think we have ourselves some "HOT SHIT!" here.   As the CD rolls on, you'll hear smooth flows with hype beats galore!   You'll even stop and think at times due to some catchy, life-worthy lyrics.   For instance on track 10, "Ups and Downs", Swade brings you the good and bad that life has to offer.   He says here that "you make the moves you wanna make" and that you can either use mind or muscle.   You have to have the ups with the downs, but how you live out these times is up to you.   The choice is yours; now go do it!
This hip-hop performer/writer from Los Angeles now calls Long Beach California home where he owns Nuttsackular Productions.   Keepin' busy and makin' moves is what Swade is all about these days.   And for Swade G and his Ghetto Life, there is no other way to be.   For more on this talented rap funkster from Cali, SKOPE out www.swadeg.com.  
By Jimmy Rae (jrae@skopemag.com)
[Rating: 4/5]