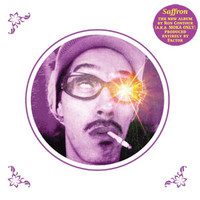 Is Ron Contour notorious Canadian rapper, and MC Moka Only's cousin; or just Moka Only wearing a cheap costume shop moustache?   Whatever the case, the moustachioed madman raps "rugged and raw like McGruff the Dog".
"It is a riddle, wrapped in a mystery, inside an enigma; but perhaps there is a key."
– Winston Churchill
With all the references to food, Saffron will leave you as hungry as Marc Emery, Canada's Prince of Pot, on April 20th.
Ron's rapping style is a cross between MF DOOM, Kool Keith, and Buck 65 in "Food". His awkward stream of conscience rapping style will leave you in stitches, and at 29 minutes long, it ends itself before the joke gets stale.
"Wondrous" – Its whistle based beat à  la Spaghetti Western film would be a great ring tone for anyone's "celery phone".
"Glad" – If I was a betting man, I'd put money on this song being a commercial success. It's the most listenable song on the album. Heck, it even name drops Buck 65.
"Prairie Wind" – This track samples Ennio Morricone's work on the Dollars films and is a subtle nod to 2001's Bad Dreams "Bring It On" (produced by Saukrates) by Swollen Members that sampled Henry Mancini's "It Had Better Be Tonight".
By: Shawn Alexander Roy
[Rating: 4/5]