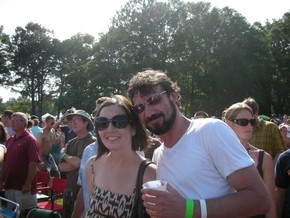 Robert Randolph and The Family Band: Ain't Nothing Wrong with a Tea Party (No, not that kind of tea party).
I oft boast about my hometown of Charleston, SC. Usually, it consists of me bragging about the fact that "there are so many things that you can do here that you just can't do anywhere else." Now, I concede that most people would say that of their hometown, and usually most people are right. However, no matter what, this is one argument I am definitely going to win.
See, Charleston is home to the only functioning tea plantation in the country (or in all of North America actually). Every year the initial harvesting of the soon to be steeped plant is called the "First Flush" and to coincide with the new harvest, the tea plantation invites Charleston at large to celebrate along side with its First Flush FesTEAval– a day dedicated to good food, better tea and high profile music acts.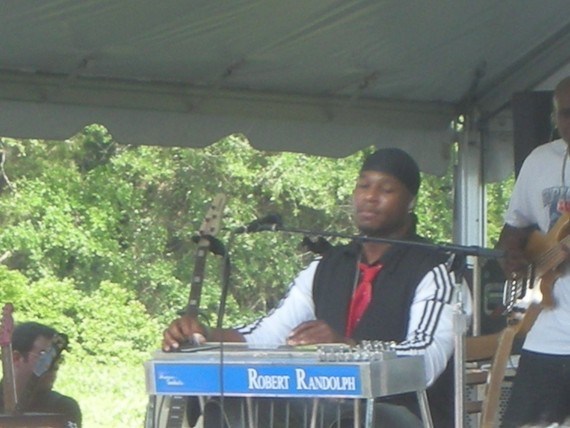 This year marked the third annual FesTEAval and featured the most high profile headliner to date: the infectious funk-fried, soulful pedal steel of Robert Randolph and The Family Band. After a relaxing afternoon with friends under shaded ancient oaks and Spanish moss, my partner in crime (and life), Katherine and I headed for the front of the main stage as Randolph et all. were about to take stage. And as with any RR show, we readied ourselves by replacing flip-flops with dancing shoes. For those of you not in the know, if you aren't dancing at a RR concert; you don't have legs.
[youtube 6JColI9lOvg nolink]
Classically trained in pedal steel (known as "Sacred Steel" within many African American Pentecostal church communities) in the House of God Church in New Jersey, Randolph's career was church oriented only. Early in his adolescence, Randolph claims he had "no knowledge of non-religious music, only the church thing." That all changed when he was discovered and selected to join a project involving John Medeski and the North Mississippi All-Stars. Randolph rose to secular prominence soon after and established The Family Band. His tour collaborations consist of Eric Clapton, North Mississippi All-Stars and the Dave Matthews Band and The Family Band is set to release their third studio album We Walk This Road next month.
Randolph's set at the FesTEAval set the tone early with ubiquitous tune "I Need More Love." The thumping bass riff, up-beat rhythm section and blues-laden pedal steel made the front stage come off its feet and set a small ocean of attendees reeling with dance. "Shake Your Hips" saw the stage flooded with a bevy of girls, young and old, sharing dance space with Randolph until they enveloped the band as a whole. Show standout was the dance-inducing, all-out frenzy of "Ain't Nothing Wrong With That." As the song wound down, Kat and I retreated back to the shade of the oaks, having left everything on the grass, stage front.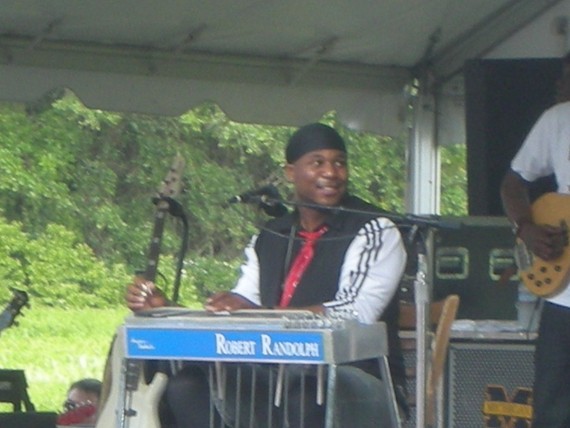 As refreshing as the freshly steeped tea, the afternoon was made complete with one helluva good show from one helluva good music outfit. My hat goes off to Randolph for making a good festival a great one and for making the phrase "Tea Party" a little less of an ugly word.                        
By: Chris West – cwest@skopemagazine.com