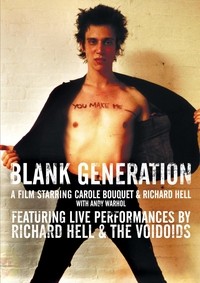 In 1980, an instantly forgettable film documenting a surreal relationship between Billy (Richard Hell) and Nada (Carole Bouquet) was released.   Inspired by French New Wave cinema,   it features odd transitions, several moments of cinema that leave you puzzled, and things that'll have you laughing out loud. With its beautiful cinematography of a grimy New York, superb music by Oscar winning Elliot Goldenthal, and shots of CBGB's in its heyday, it cements itself into cult movie status.
"Triangles were fallin' at the window as the doctor cursed.
He was a cartoon long forsaken by the public eye.
The nurse adjusted her garters, as I breathed my first.
The doctor grabbed my throat and yelled, "God's consolation prize!"
-Blank Generation
The plot of Blank Generation is complicated and confusing.     Billy, a writer turned singer, is dating French television presenter and interviewer Nada. Nada and Billy are at a moment in their relationship where Billy has to pick between his music and girlfriend, and Nada has to choose between Billy and her old flame, Hoffritz, who just came to town to interview Andy Warhol.   After the couple break up, Billy dates a filmmaker who is supposed to look exactly like Nada (she doesn't).   Nada runs around New York, interviewing Bobby "the Bear" Butler, a compulsive milk drinking football player, who is nursing an injury in the slums of the city.   She then also has an interview with Jonathan B. Marlow, who went "from filmmaking to India" and now speaks in pretentious philosophical phrases that make him sound like a cross between Yoda and a ninja.   After Hoffritz comes on the scene, we're left wondering whether Nada will be joining him when he goes back to Europe.
The movie is not really what sells this DVD to me: it's Richard Hell's interview with Luc Sante. In the conversation, Richard waxes philosophic on why he got a credit writing the movie, why he did the movie, and why such a terrible actor as himself got to star in a movie. He also tells on-set stories that will leave you in stitches — all that, and you get a glimpse of Hell trying to answer, "What the fuck was that?"
Shawn Alexander Roy
[Rating: 4/5]