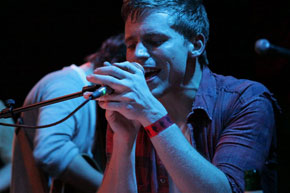 Last time I saw the White Rabbits was in Fort Lauderdale about two and half years ago at Club Revolution. They were touring with Spoon and The Walkmen. White Rabbits had just released their first album Fort Nightly.

They played a short set to make way for their more established colleagues. I was not only impressed but also wanted to hear more from this new band from Brooklyn. I liked their energy and their passionate presence. I had already become enamored with their album and the performance confirmed that they possessed a real spark, which could not be betrayed by studio magic.
This tour finds them headlining performers sharing the stage with various local acts from the cities in which they play. On Thursday they came to Atlanta and played The Earl, a tiny little club in the east side of town. Local acts Golden Bears and Howlies opened the evening. The stage in the little club is elevated only about two feet off the ground and the small stage barely fit the 6-piece band and their equipment including Stephen Patterson's stand up piano. Last time I saw them they were comfortably spread out on a large and highly elevated stage. I was aware that this place seemed like a step down from those accommodations. The claustrophobic setup was a benefit to the crowd who could be close and personal with the band.
The energy blasted from the stage from the first note. The tight arrangement of instruments with edgy chords and the unrelenting percussive assault filled the little club with cacophonous bliss. On "Midnight and I" the moody piano melody and heavy drumbeat made way for the softer and delicate chorus with 'Get to sleep / Get to sleep now'. By this time the club was packed. Across town Vampire Weekend had been playing and had since finished. Those fans were heading over to The Earl and funneling in and pushing themselves to the front. This is where the intimacy of the performance made its mark, as we were packed in together taking in the stellar performance coming from a stage that could barely contain the explosive energy.
"Percussion Gun" brought the energetic Burundi drumming that had so captivated me when I first heard it on my stereo. The rapid-fire drumbeats demonstrated their percussive power – the dueling drummers were set on a collision course of cascading beats. On top of the rhythmic tempos was the clangorous piano and Patterson's tortured voice wailing over the angular arrangements – his frayed and protracted vocal style was a fitting compliment to the dramatic instrumentation.
Setlist
Fox Hunting
While We Go Dancing
Dinner Party
Rudie Fails
Ethiopique
Company I Keep
The Plot
Chevy (Right Where They Left)
Kid On My Shoulders
Midnight and I
Lionesse
Percussion Gun (Burundi)
—
The Lady Vanishes
The Salesman (Tramp Life)