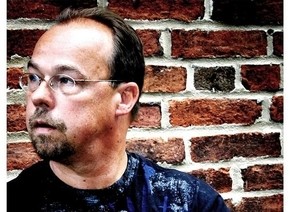 Maryland singer/songwriter Harry Pritchett has a story that doesn't read that differently than many artists. First influenced by The Beatles, started writing songs in high school, played those songs for friends who then urged him to pursue music. That pursuit saw him release his latest album Strange Journey last year with one track, "Night Bird" garnering him silver at the 2009 Mid Atlantic Song Contest.
Pritchett is a man of many hats–husband, father, master's degree recipient, career man and artist. But a deeper delving into his songs shows a passion beyond simply performing. They are the stuff of deep, thinking man's lyrics that tell a story as well as paint a picture. But what makes this interesting is Pritchett's mantra of "Keep it simple" and his approach to songwriting.
"It typically begins with improvisational jam," Pritchett said of the genesis of his songs. "Just picking up the guitar and jamming and trying something out and seeing where it goes. I just try to be as uninhibited as possible and to not worry about it."
Once the foundation of the song is established, Harry then begins to churn out the lyrical work. "The direction I am going now is to focus on the lyrics and to do it separate. I really like both aspects and I am a great lover of language and music. And sometimes it all comes together in that improvisation but I try to not get distracted by the number of syllables, the way the melody is going, I just focus on 'What am I trying to say… what is the song about?'"
Drawing inspiration from stories and personal experiences, the ethos of Pritchett's songs would be the "positive side of human nature." "The thing that inspires me most are stories or situations involving hope in the face of adversity," he said. "Or of someone doing the right thing even if it isn't easy."
Musically, Strange Journey is as approachable and unpretentious as Harry is. The songs are made up of demure melodies in the vein of pop meets folk and the lyrics evoke vivid imagery. Tracks like "Night Bird" and "Angel Go Home" serve as portals to times and places that are universal though the two songs couldn't be more diametrically opposed.
"I love the freedom and writing songs with no rules," Pritchett said in closing. "I like the idea of tailoring a song to an emotion that would tell a story."
www.myspace.com/hpritchettmusic
By: Chris West – cwest@skopemagazine.com