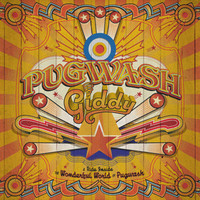 The mystical charm of Ireland, something that has fascinated those on this side of the Atlantic for quite some time, is heard in spades on Giddy, the latest release from Pugwash. The distinct harmonies, elevated by the subtle folk-pop melodies show off how effortless Walsh makes the whole thing sound. This however, hinders Giddy as much as it helps it.
There are more than enough heartwarming moments on Giddy, including on the uncomplicated acoustic sadness of "Sunrise Sunset" and the well-produced, slow-rolling pop genius of "Black Dog." But for ever moment of acoustically inclined pop brilliance, there are moments on Giddy that lack a trace of originality and simply sound phoned in. It's impossible not to hear the heavy influence of The Beatles on Giddy, probably because so many of the tracks bear a distinct musical lineage to Beatles standbys. "It's Nice To Be Nice" sounds so similar to "A Little Help From My Friends" that I swore I'd put in the wrong disc.
Now, there's nothing wrong with wearing your influences on your sleeve. It's when you don't put your own spin and voice on those tunes that things start to become rather marginalized. And on Giddy, Pugwash walk a very, very fine line.
By Joshua Kloke
[Rating: 2.5/5]