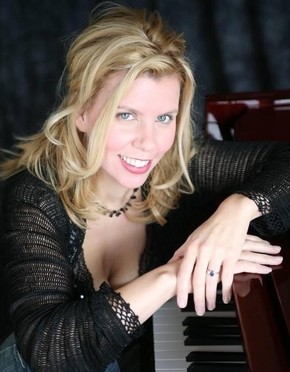 Welcome to a fresh and exciting new week here at Skoped Out. This week we not only have a talented singer/songwriter but this woman is also one of the sweetest people you will meet. Joining us from New England is Lori Diamond. Lori came onto our radar after we received a copy of her newest album, 'Mystery.' Her music is the perfect compliment to a beautiful summer afternoon hanging outside while reading a good book or enjoying a drink with friends. Lori has joined up with Fred Abatelli who has only enhanced Lori's music both in the studio and live. Join us as we hang with Lori Diamond and take it easy & laid back!
Stoli: Where are we talking from today and are you playing anywhere live tonight?
Lori Diamond: Today, I'm happily at home in Northboro, MA.   While I'm not gigging this evening, I am preparing for a studio job that I have in Boston tomorrow.     Arranging and creating music in the studio is always a great learning experience, so I do it as often as possible.
 
Stoli: Your album, 'Mystery' is a masterpiece. How did you decide to make track 1 the title track?
Lori Diamond: Thank you so very much ;0). We decided on 'Mystery' as the title track, since it was the song that inspired us to do the whole album in the first place!
Stoli: How long did you write & record this album and what studio did you use?
 
Lori Diamond: We had spent some time doing studio work for a fellow artist, Carrie Rowan, at a wonderful place called Wellspring Sound in Acton, MA. After developing a rapport with the masterful engineer, Eric Kilburn, we realized that this was where we needed to be. With access to not 1 but 2 beautifully maintained grand pianos, I knew our experience would be joyful at the very least!
 
Stoli: Your songs are very slow and melodic. Would you say that your music is a reflection of your personality?
Lori Diamond: That's a good question…yes, the songs are slow and melodic, and Fred and I both tend to be fairly easy going and peaceful.   Don't get me wrong, we absolutely enjoy rockin' out when the song calls for it, as we both have experience with Motown, Jazz and Classic Rock bands.   At this time in my life, however, I'm feeling a different groove and I'm just going with it.   Luckily, Fred is on the same page.
Lori Diamond "Mystery" MP3:
SKOPE IT HERE!
 
Stoli: When you sit down to record or write music what must you have to get creative juices flowing?  
Lori Diamond: Often times, when I sit down to write, I have to sort of 'dig up' an experience that has had a very emotional impact on me.   Whether it is my own experience, or if it's a story based on someone I know, or if I embellish the details to make it more interesting — it all has to stir up emotion in me so I can create the right mood, as well as make it as authentic as possible.
 
Stoli: What was so special about Fred Abatelli that you wanted to merge his talents with yours and what does Fred add to your music that you were missing?    
Lori Diamond: If you want to know what's so special about Fred, you should ask the folks who are lined up at his door — hoping he will play on their musical projects ;0)!   Thoughtful….that is among the best words I can think of to describe Fred.   His approach to playing bass, guitar and adding vocal harmonies, is carefully thought out, and perfectly executed.   He knows how to paint colors and enhance the overall picture – and most importantly, he knows how to listen!   Aside from being musically competent, Fred's personality is simply compatible with mine.   It's a huge part of working well together, and I'm grateful that I do not have to direct my energy into getting along, or battling a super-sized ego.  
 
Stoli: How do you respond when the media/press link you two romantically?
Lori Diamond: Usually, we just don't.   However, I completely acknowledge that there is a palpable chemistry between us on stage.   This powerful spark comes from mutual admiration for each other, as well as sheer delight that we are each doing what we love to do — and that somebody else truly gets it!   How great is that?   I know that might not be as interesting as a tryst of sorts, but that's just the way it is.   We're psyched!
 
Stoli: Skope started in New England and you are based in Massachusetts. What is it about this region that made you want to remain here while still creating & performing music?  
Lori Diamond: I'm from the outskirts of Boston, and all of my family is here.   Without them, particularly my mother, I wouldn't be doing nearly as much performing as I do.   I learned quickly that a good support system is crucial — especially with young children.   Plus, there is a great music scene in MA…Fred and I are tapped in to an amazing network of musicians here in the Metro West and we have many options for gigging as a duo, or as support players for others.     This region has been good to us, so even though we are excited about branching out, we haven't really discussed a different home base.
 
Stoli: Your live show schedule is packed for 2010. What do you love about playing live and what can readers expect from a live Lori Diamond show?  
Lori Diamond: We really do love playing live, and we think that seems to translate to our audience.   As we discussed earlier, our sound is more of a slow groove, so we tend to thrive in coffee houses or venues that are known 'listening rooms'.     Interacting with fans in an intimate setting is truly what we love to do.   In order to make that wonderful connection, we try to chat with folks and make eye contact while singing.   Just because the tempo doesn't call for a mosh pit, doesn't mean folks are falling asleep though.   The set list is, usually, thoughtfully planned — unless we are responding to requests, which is even better for stirring things up.   We want our audience to know how grateful we are for their time and energy, and we want to give them an experience that they will want to re-create…hopefully, buying our CDs will help with that.   Fred often says "If you buy our CDs this evening, you can take us home with you — legally!"…    
 
Stoli: How do you balance family life while pursuing your musical passion as hard as you do?
Lori Diamond: In all honesty, sometimes I do it well, and sometimes I don't.   I'm unbelievably passionate about my family and music, so I feel incredibly fortunate to be so rich in both areas!   Do I do it all?   Not really.   Laundry Mountain only gets higher when my gig schedule is on the rise.   What I can say, is that I make every attempt to get all of my ducks in a row before I ever leave this house.   Anything I can do to minimize the impact of my absence, I do.   Everyone knows that they are truly loved, and they all know that I always come back!
 
Stoli: What are some of your favorite venues to play in MA and when can fans see you outside New England?  
Lori Diamond: Fred and I both have a lot of performing experience and we have found one place in particular, that we just always have a super-fun show.   Believe it or not, it's just a cute little coffee house in Chelmsford, MA, called the Java Room.   With the grand piano, the rich colors on the wall, the artwork, not to mention the wine bar and delicious food – this place just fills right up.   And even though this lovely place is completely full, we look out, and we see that people are listening…   They are smiling, they are singing along, they are genuinely engaged.   It's the best feeling.   We also enjoy performing at Amazing Things Arts Center in Framingham, MA (Amazingthings.org), as well as The Natick Center for the Arts (NatickArts.org).   Both of these venues are beautiful converted fire houses and there are endless opportunities for artists of all kinds to express themselves and grow.   As far as playing out of New England, we do have some shows that are in the planning stages at this time, but it's probably safe to say that we will be appearing in NYC in the not so distant future.
 
Stoli: Where can readers pick up a copy of 'Mystery' and what is your most personal track on the album?
 
Lori Diamond: LoriDiamond.net and Myspace.com/LoriDiamond, both have a very secure set-up to purchase both CDs, 'Bound' and 'Mystery'.   The most personal track on the 'Mystery' album is probably 'Patient' — the last track.   It was inspired by my sister, Holly, but I sense that many people will relate to it on different levels.   'Patient' speaks of love that was lost, but it is intended to be hopeful and uplifting.
Stoli: What does Lori Diamond do on her off time when not making music?
Lori Diamond: Besides watch Oprah and eat Bon Bons?   (that's actually a joke — but a gal can dream ;0) )…As I briefly mentioned, most of my time is spent taking care of my brood.   If do find myself with a little down time, I'll do something quiet — like read, or bake.     Anything that helps me restore my peace…and sometimes, that's just sitting with a strong cup of coffee, closing my eyes and pretending I'm at the ocean.     I know, not all that exciting for the readers.   Maybe I'll take up hang-gliding and alligator wrestling before my next interview.  
 
Stoli: What is coming up for Lori Diamond and where can readers get more music from you?
 
Lori Diamond: This coming year is jam packed with music and we are thrilled.   Our performances are abundant, we begin recording our third CD in June, we are talking about doing some festivals and higher profile gigs — there is great momentum and we are just riding this joyful wave.   For more music, seek us on Myspace, YouTube, Facebook, Twitter, Reverbnation,…we do have an active online presence and we post our gigs and music related news on a daily basis.   Plus, folks can purchase our music on LoriDiamond.net, Myspace.com/loridiamond, Facebook.com/loridiamond, Myspace.com/FredAbatelli, CDbaby, itunes, CDFreedom, Rhapsody….plenty of options!   So consider taking a moment to visit us, and send us a note.   We are always happy to make new friends.   We truly appreciate this interview and the opportunity to appear in Skope — thank you so much!   Keep an eye out for Lori Diamond and Fred Abatelli —hopefully, soon, we will be appearing at a venue near you! ;0)
Photo by Shannon Power