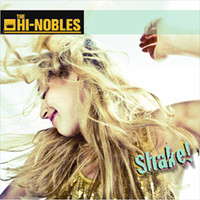 Jangly, party-ready strut? Check. Insistent adherence to the aesthetics of their musical heroes? You got it. Husky vocals? It's all here. Hearing Shake! the debut from the garage and soul-influenced Hi-Nobles will no doubt bring listeners on a musical trip, as the record easily evokes images of rock and roll legends from yesteryear.
Things never let slow down on Shake! from the elated stomp of "Shelter"to the punked-out boogie of "Don't Go." Whatever these cats had for breakfast, keep it coming.
"Stings A Bit" is a clear-cut tribute to the mastery of James Brown, played out over a shuffling, hustling groove with rabid percussion. The Hi-Nobles are the kind of band that incites partying without regret; there isn't much introspection or heavy thought that could be accomplished with The Hi-Nobles. Which isn't to say this is music for meatheads. In fact, The Hi-Nobles have studied the masters of their craft like no other; potent, joyous songwriting is the result. Shake! presents the garage and soul vibes that no doubt get The HI-Nobles wet, yet with their swinging, ska and surf-ready touches.
By Joshua Kloke
[Rating: 3/5]