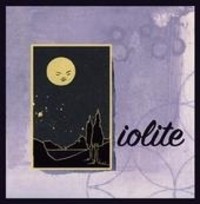 Iolite is a band surrounded by a deep richness of sound.   There are a number of musicians on this EP that help appeal to the senses by way of a plush & vibrant appearance.   The fullness factor can be contributed to the many talented players on this disc.   This work is undeniably an all-around group effort that comes across as highly fulfilling to the listener.   The members of Iolite are as follows: Arianne Benick as founder, co-writer & lead singer, Julia Johanan as founder, co-writer, pianist/keyboardist & other, Shimon Israel on bass, Dan Barger on flute, tenor/soprano sax & percussion along with various guests on drums.   Additional instrumentalists include: Dawn Bosan on muted trumpet, flugel horn & horn arrangements, Tim "Tsly" Sylvester on guitars and Brian LoseKamp handling percussion.  
Iolite offer a smooth blend of jazzy & bluesy soul as they hope to appease your appetite for "good vibes and good music".   I almost get an old-fashioned feel when listening to the five tracks on this EP.   Just picture yourself in a smoky lounge in say the 50s or 60s era surrounded by cigarette clouds and soulful jazz numbers.   This is the picture that is painted for you as they attempt to bring you back in time.   These cool cats have got the perfect dose of medicine for all you "lounge lizards".   Their anecdote happens to be on the sensual and sultry side while keeping it classy all the way.   This Cincinnati-based band comes equipped with a simple & delicate charm that is extremely delectable.   Simply put, they have created timeless music for your listening pleasure.  
From a musical perspective, Iolite, as a whole, really nailed it.   The overall presence comes across as polished and well-versed.   All instrumental sections were performed spot on with pure ease.   Arianne Benick sings with such poise and passion to where you can sense this quality in her voice.   However, I have to say though that I wasn't overly crazy about her complete vocal delivery.   There were pitch and tone changes that just didn't seem to flow naturally throughout the recording.   There were abrupt vocal key changes that I personally wasn't able to adapt my ears to at times.   On certain songs, Arianne's singing approach worked with flying colors but other times I just didn't stay connected.  
In the end, I believe Iolite have a lot to be proud of and a lot to play for.   They have a solid reason and a true purpose when it comes to making music and that is to simply please ALL.   Julia Johanan says it best when she stated: "Our main purpose is one of understanding and unity for all of humanity.   We hope people can learn something from our experiences through our music".   Well said Julia and I applaud you and the rest of Iolite for your much needed & timely message.   No better time than now to preach wholesome goodness in a country surrounded by blatant ugliness.   And in the end… WE stand united as ONE.   For more on this soulfully jazz-worthy group and their new release, SKOPE out www.myspace.com/iolitemusic.  
By Jimmy Rae
[Rating: 3/5]