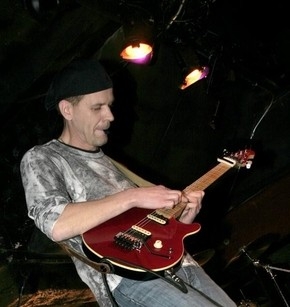 Happy Monday to all and welcome back from SXSW in Austin, TX. The Skope/MeowPoww party was incredible! We are back at it this week with one of the most exciting guitarists out playing right now. Coming out of Illinois is Arek Religa. Arek came to the USA via Poland and has not looked back. He is a serious musician that does it because he has no choice but to flame the fire inside him. One listen to his song "Beyond Horizon" and you will wonder why you have not heard him before. Lets get into it!
Stoli: You moved to the US from Poland in 2000. Are you pleased that you made that move & what made you want to come to the US?
A. R: Yes, I'm very happy I came to the US. When I was a teenager, it was one of my dreams. All the biggest movies were made in USA, all the best music was made mostly by American musicians, etc. It was tough growing up in Poland, we lived in very hard (communistic) times. We were not allowed to listen to the music we wanted to. The Radio stations and TV all were controlled by the government, so we didn't have options to choose from.   We were forced to listen/watch to what was on.  
And secondly, we didn't have many options as far as selection goes.   I couldn't buy a good quality or brand name instrument I wanted, because there were none.   That and more, are major reasons why most people wanted to leave this country. Of course now, life in Poland is much different.   It is part of UE and they have to abide by the UE rules, so life in general has improved from the old days.   Many say, it's just as living here (in the US).
Stoli: What was the music scene like where you grew up in Poland?
A. R: Like everywhere else in the world, we had our music which expressed our social problems, politics, love, war, religion, freedom, regime, etc.   It's hard to understand or even imagine, but here, anyone could go to a store and buy whatever he/she wants.   20 to 30 years ago, most people could not afford to buy good musical instrument, secondly, there really weren't any good ones, thirdly, even if the small percentage of people did have the money and could afford it, there wasn't anything to choose from.   And lets say, someone wanted to buy a Gibson or Fender, they had to travel to the far west. Because of that, I thank God for all those circumstances and hardship, this gave me strength and stubborness to learn music, and to go to any length to get what I wanted.
Stoli: When was the first time you tried the guitar and how long did it take to really master your instrument?
A. R: I was sixteen when my mom bought me my first guitar.   I just went crazy!   I started playing/practicing by listening to the greatest, such as Pat Metheny, Eddie Van Halen, Michael Schenker, Carlos Santana and many others — the list just goes on.   I can't recall, but it probably took me a year or two years to replay the solo's of the above mentioned artists.   As far as mastering the guitar…. I avoid labeling myself as a master, because I believe I would stop improving.      
Stoli: Your first album is called 'In memory of the Greatests.' Who are the "greatests" that you are refering to?
A. R : Actually, it doesn't refer to anybody. I was thinking of the Greatests of that world, and not necessarily musicians, but they are also included:-).
The album is most of all in memory of my parents, but also in memory of John Paul II (our Polish Pope), I'm not a religious person, although I'm a very spiritual one. I admire what John Paul II did for Poland and for the entire humanity. So "In memory of the Greatests" is really for all the greatests people, it's my own way to appreciate them.
Stoli: How long were you recording & writing for that album?
A. R: It took me a very long time. When I came to the US, I didn't speak any English. I also have no idea about computers and how to use them. I didn't hear before about music software, virtual instruments, effects and so on. I knew one thing, I wanted to play and record my music. So I made the decision to pay for my recording studio and learn to do everything by myself.
Stoli: Do you ever feel that because your songs have no vocals that effects how much radio or TV outlets will play your records?
A. R: It's more difficult to have an instrumental song played on radio, tv or other media. There are less chances that you get record deal with instrumental music, less chance to play some big gigs or concerts, but, on the other hand, there are a lot of people in the world that like this kind of music, and if some (even a small percentage) like it, that's good enough for me and I feel that I do what I love and not what is popular.
Stoli: You have accomplished alot since moving to the US in 2000. How did you learn to network and promote yourself in a foreign land as well as you have?
A.R: It took a lot of work, a lot of self-discipline, faith in what I want to do, patience and sacrifice.   I believe in my dreams and I have no doubt that one day all my dreams will come true.   I read somewhere that "as long as you can, control everything yourself, do it, because nobody cares about your business as much as you do", or something like that.  
Stoli: What is your favorite time of day to play and write new music?
A. R: Night is my favorite time, when there's nobody to bother me, besides night has something special, something mysterious about it and gets me in the thinking and creative mood.  
Stoli: You are married. How do you balance music & marriage and is your wife a fan of your music?
A. R: I couldn't achieve anything without my wife Iwonka, she knows that music is my life and I don't want to do anything else.   Creating music is what I love.
She appreciates my hard work and always supports me.   Besides, I think she likes my music… well, maybe a little :D
Stoli: You now reside in Chicago, IL. What are some of your favorite venues to play and hear live music in that city?
A. R: I didn't have too many opportunities to play at what you would consider the "big" venues, such as First Midwest Bank Amphitheatre (Formerly Tweeter Center), but I have played in a lot of pubs, clubs, and similar venues. I also performed at "Double Door' and "Metro", which are legendary clubs and not everyone is able to play there.  
Since I do not have a band for now, I'm focused on recording my albums and some music for TV and radio commercials.   In the near future I plan to tour.
Stoli: What brand of guitar do you use and what is important when it comes to your instrument?
A. R: I have a MusicMan Axis, Fernandez Retrorocket Elite, Schecter, and an acoustic one, they are all very good and I love all of them. I buy instruments on the basis of how they sound, not necessarily the brand. These days there are a lot of new producers of guitars that are as good as the famous ones and they are much less expensive.
I have a very personal approach to my guitars. It's difficult to describe, but I always tell my students, (I also give lessons), that if you don't appreciate your guitar, your guitar is not going to appreciate you and I believe that's really true.
Stoli: Do you ever miss Poland and what do you do to keep in touch with family & friends back home?
A. R: Yes, there are times I miss Poland, especially my family.   I have a lot of friends there too.   And mostly due to the Internet am I able to quickly communicate with someone in Poland, or France or wherever in the world.   It's no longer a problem.
Stoli: What is coming up for you & where can readers hear more of your music?
A. R: Presently, I'm working on improving my recording skills. I want to record and release at least two albums this very year. You can find more info or my music at www.ArekReliga.com (it's my MySpace account for now, I'm working on my website as well).   You can also click on the following links:
www.youtube.com/arekreliga
www.jango.com/music/Arek+Religa
http://arekreliga.com/press/