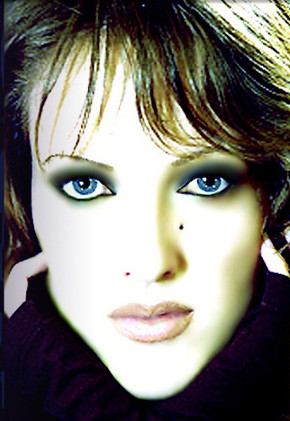 Welcome to another week here at Skoped Out! This week we have another female singer/songwriter who caught my attention after she took home RadioIndy "GrIndie Music Award" for 2009 for her album, 'Warrior Angel.' Coming out of Washington, DC is L'illon. L'illon is an independent artist but she is also one of the hardest working musicians as she also  heads up her own label, Lucid Pop. Join us as we talk to L'illon about the album, her genre of "Lucid Pop" and so much more!
Stoli: Where are we speaking from today and what are you up to tonight?
L'illon: Hello! Hello! From DC! We are currently snowed in; cabin fever is high; but that won't stop Cupid from doing his magic this weekend;)
Stoli: I would like to comment on your website, (www.lillon.com). It is one of the most concise sites for a musician I have seen. Who did you work with on that and how important is a strong web presence to your career?
L'illon: I run my music as a business, so an internet presence is really important. Going viral is really only one aspect, but the true staying power is having great songs. And it also doesn't hurt to have a kick-a$$ website as well.
Stoli: Why did you decide to call your new album "Warrior Angel" and what does that mean to you?
L'illon: I wanted my album to be a reminder that with music one can find that nurturing point – "here's looking out for you."
Stoli: How long did you write & record this new album?
L'illon: Hours, days, weeks, months, years…..I never stop working on perfecting my sound.
L'illon "Love Story" MP3:
Stoli: I love the song, "Thief Of The Night." What is that song about and what inspired it?
L'illon :'Thief of the Night' is my anthem to bad boys. Who serioulsy doesn't know one or been involved with one? So, I just take everything in stride and use my experiences as inspiration to my music.
Stoli: Your label is Lucid Pop. Please explain your role at the label and are you looking to sign new artists?
L'illon: 'Lucid Pop' is my signature sound and a sub genre of pop music that I have coined. "Warrior Angel" is the first Lucid Pop album ever.   What the future holds is anyone's guess.
Stoli: What is something odd that you do that might surprise Skope readers?
L'illon: That's a good one…You know I can't tell my trade secrets;)
Stoli: How has the Internet helped you promote & market your music more so than you could have done 20 years ago?
L'illon: The internet is but one vehicle that can help an artist build momentum. The business model has to continuously reinvent itself because the pace of technological change is so fast that even the 'titans of the industry' have to run to keep up.
Stoli: Who was the first person to hear the album in full and were you nervous to unleash it on to the public?
L'illon: Actually, it was me…. it was exciting to hear the album in full … I was really feeling the vibe and getting ready to share.
Stoli: As a strong woman do you feel that you get judged for things other than music such as looks or sexual appeal?
L'illon: Yeah, but I am an all inclusive package deal, so it doesn't bother me.
Stoli: You have got major plays at radio and positive reviews in the press. How does that make you feel?
L'illon: If you 'feel' that you are on top of this world, you can get close to heaven. Children get that feeling by believing in magic and myth. Adults can get more of that feeling from music, and I hope to inspire that feeling in others through my music.
Stoli: I watched the Grammy's on Sunday night and I feel that many independent artists have more to offer musically than most of these mainstream artists. What is your take on this?
L'illon: I agree. There is a feel of limited creativity. The Grammy's also needs to maintain their momentum to be continuously fresh and innovative; this could be done by showcasing new artists with a signature sound.
Stoli: Are there any plans to tour coming up and what can readers expect from a live L'illon show?
L'illon: Plans are in the making…and what you can expect… excitement, passion, great vibe!
Stoli: What is coming up for L'illon and where can readers get more from you?
L'illon: Borrowing a quote from one of my reviews: "anyone lucky enough to happen onto the album will be sticking with it for the long haul". "Warrior Angel" is now available through the Skope Magazine Shop:
http://skopemag.com/2009/12/22/lillon-warrior-angel#more-17910
or
Buy 'Warrior Angel' on CDBaby:
http://www.cdbaby.com/cd/lillon3