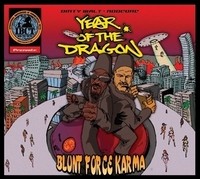 Walter AdamKibby, II AKA Dirty Walt Kibby & Roderick "Rodcore" Palmer make up the core of Year Of The Dragon.   Dirty Walt was actually the co-founder of Fishbone whom he spent 25 years with before starting on this new project.   Another key player toward the origins of YOTD was another Fishbone member/guitarist, Tracy Singleton AKA "Spacey T".   All the seeds have been planted as you now experience Blunt Force Karma in its entirety.  
The meaning behind the name Year Of The Dragon refers to the Chinese zodiac sign for Dragon, which symbolizes strength and harmony.   The ironic twist to this is that both Kibby & "Rodcore" were born within days of each other and are both considered to be Dragons.   So there you have it, Year Of The Dragon means Year Of Dirty Walt & Roderick as they give to you Blunt Force Karma.  
This group comes out of LA and they are definitely bringing the heat with this debut record.   The musical connection & band chemistry is so incredibly strong between Kibby & Palmer.   You really feel this sensation as the album rolls on that these two artists have got something special here.   The cool part is that both musicians exhibit two completely different vocal deliveries, which adds a fresh dose of adversity to the whole mix.   The styles themselves displayed on this record are ridiculously diverse as you hear everything from: rock, metal, rap, punk and funk.   The overall blend really stands out as being highly original and very inventive.   This eclectic bunch of songs will leave you feeling refreshed as you will feel like you've tapped into something truly exciting.
The powerful vocals are the reason why this album has so much damn edge.   Dirty Walt Kibby, Roderick "Rodcore" Palmer and all the rest of the fine musicians featured on the disc really pour it on and just hammer it.   There is no time for messing around as YOTD dive right in and offer you their hard-core, rough, rugged and raw sound.
What I really loved about this album was the fact that it was electrifying & fiercely energized thanks in part to the performers.   "Rodcore", Dirty Walty & company are responsible for bringing that crazy hot energy to the table.   Not a dull moment on this CD as you will feel like you're on one hell of a rollercoaster ride traveling at super fast speeds.   The energy & excitement will feed right into you as you pick up on Palmer and Kibby's wild displays of emotion.   I equally enjoyed the awesome guitar solos throughout this CD along with the heavy metal riffs.   You get that bold hardness and rock-tastic atmosphere thanks to the excellent musicianship of the guitar.   Rock & metal collide here in such a perfectly designed manner.
Track three, "Poppin'", comes with a heavy, head bobbin' joint to go hand-in-hand with a take-no-shit mentality.   The emphasized words of "YEAH!!!!" and "FUCK YOU!!!" really sum up this idea of tough-nosed music.   Get ready to shoot down your fears with force on the appropriately titled song "Destroy Your Fears".   The CD ends with complete and masterful authority on "Walking Tall".  
Rocked out performances galore on this disc as YOTD invite you to rock along with them.   This just may be the Year Of The Dragon as failure does not appear to be an option.   For more on this LA-based powerhouse and their brand new release, Blunt Force Karma, aggressively SKOPE out www.yearofthedragonband.com.  
By Jimmy Rae
[Rating: 4.5/5]