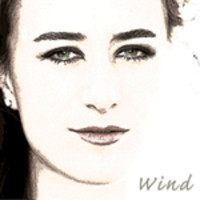 Carmen Tosca attempts to blow you away with her new album, Wind.   The CD consists of 11 tracks that are in the realm of electronic/new-age/ambient.   The disc also displays classical moments and comes across as being extremely intercontinental.   This record oozes with creativity where Tosca makes good use of sounds, sound effects and instruments.   Carmen had a true vision in mind when she created this tranquil Wind full of bright, colorful ambience.  
Tosca actually started playing the piano at age five and playing pop songs by ear in high school.   Her love of music carried over into her other passion of photography where she now also runs her own business, Tosca Studio.   Worth noting that she was inspired by a Swedish film called "As It Is In Heaven", which is about a music conductor whose wish was to open people's hearts through music.   Opening people up to a vibrant new style is exactly what Carmen Tosca is attempting to do here.   Her exhibit named Wind is an audio display of musical art in its own right that will require careful observation.
Wind moves steadily along here with percussive elements that dominated this recording.   The beats were very catchy and appealing to hear as they enticed the listener.   The impact of percussion on this record was a huge aspect as you even experience African rhythms & beats thanks in part to Tosca's South African roots.   Another important ingredient to the mix was the presence of the piano.   Carmen played her instrument of choice with such elegance and poise.
On track two, you hear some enchanting vocals and on installment 4, "Emma", you enter a world full of sheer wonder.   Track three, "New Life", gives off a very cool underwater sensation that is quite hypnotic.   Some rad sound effects further add to the allure of this composition, which is discovering all of the great mysteries of the deep blue sea.   Tosca captures the true essence of this sense of ocean life through her musical approach.   "New Life" truly was fascinating to me because of how it left you wondering about this world below us.   This "New Life" comes to life right before your ears and leaves your senses in amazement.
The only flaw I saw with the making of this project was the length of time.   The entire record runs over 76 minutes long with only one track under five minutes.   With such long, drawn out pieces, my only concern is that people will not stay connected or remain interested all the way through.   Especially in a hustle & bustle-type world where everyone is constantly on the run, I picture a hard sell in this face-paced market.   Maybe Carmen Tosca wants us to stop for a second to really take in Wind and to escape reality for awhile.   If that's the case then mission accomplished and hopefully other individuals will see it that way as well.  
I definitely picked up on what Carmen was doing here and I really commend her for her efforts.   This work was nothing short of engaging that keeps your mind audibly stimulated throughout the album.   The use of sound and the incorporation of the percussion beats really stand out to me as being the key factors.   The overall peaceful vibe was heard loud & clear and honestly I think this could be an excellent meditative soundtrack.   For more on Carmen Tosca and her new release, Wind, SKOPE out www.carmentosca.com.  
By Jimmy Rae
[Rating: 3/5]