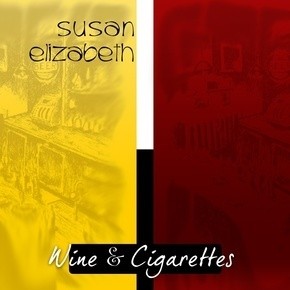 My next guest is a female singer/songwriter that I have alot of respect for. Coming out of Brooklyn, NY is Susan Elizabeth. I caught wind of Susan after listening to her album, 'Wine & Cigarettes' which came out last year. Susan has lived more in her young years and has gone through more than most and her songs show that. From songs like "I'm In Love With Your Girlfriend" to "The Exitement Before" Susan keeps you guessing. Pour a glass of Merlot and join me as I speak with ome of the sweetest voices in music today.
Stoli: At what age did you decide to pursue music full time?
Susan Elizabeth: I started solo at 18, and put a band together the following year called Paige 23
Stoli: You were with a band called, Paige 23, but decided to go solo. What was the reason for that and are you pleased with the result?
Susan Elizabeth: I decided that I wanted to take the plunge and see what I could come up with on my own, no one to answer to.   My engineer, Dave Bunting, had a lot of input, but for the most part everything came solely from me.
Stoli: What is the advantage to flying solo rather than having a group of musicians?
Susan Elizabeth: Well, I miss my back up musicians playing live, but it's very intimate between my audience and me.   All I hear is myself — my voice, my guitar, my piano.   It's a very intense experience.
Stoli: Your new album is called, 'Wine And Cigarettes.' What is your favorite wine and what kind of cigarettes do you smoke?
Susan Elizabeth: Ha ha. I drink Yellow Tail Merlot, and I actually don't smoke anymore. They used to be Parlament Lights.
Stoli: How have you matured as a musician and person since your first album, 'Let Yourself Fall'?
Susan Elizabeth: Wow, I've certainly matured in 10 years.   I've experienced more in life, for one thing. I got married, got divorced, got engaged, broke it off, lost friends, made friends.   I took some songwriting classes, so I definitely matured there. I realized the importance of the "hook", which I think every songwriter should study and consider in their writing.
Stoli: If I was to look at your Ipod what musicians would I find on there?
Susan Elizabeth: Mmm, Imogen Heap, Butch Walker, Madonna, The Beatles for sure, Jason Mraz, John Mayer, and Katy Perry.
Stoli: How have you used the Internet to reach new fans all over the world & push the new album?
Susan Elizabeth: Well, since the album is only being digitally released, I've been focusing on getting press on the Internet for the album.   The more people read about it while they're on the Internet, the more they might be inclined to open up iTunes and buy the album.   I've also joined organizations like Sonicbids and Broadjam to be aware of opportunities that are out there for my music.
Stoli: Your songwriting is very real and personal. How much of your private life would you say that you put out there in your lyrics?
Susan Elizabeth: All of it.   It's all true, all real, all me.   You could ask me about any song, and there's a story behind it.
Stoli: How long were you working on your new album and who did you call in to collaborate with?
Susan Elizabeth: It took me about a year to record and mix it.   As I mentioned before, Dave Bunting was my engineer and he had a lot of input for the album.   But most of the instruments were played by me, and the songwriting is all me.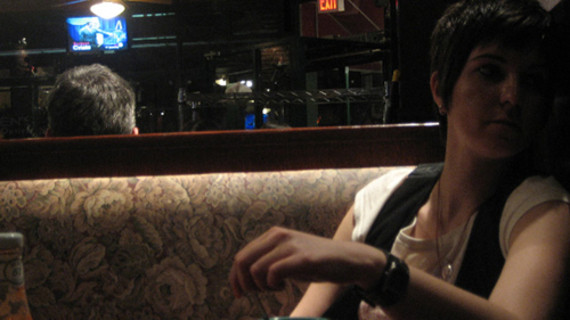 Stoli: You spend time in NY & Los Angeles. What are some of your favorite venues to play in those cities and do the listeners receive you differently?
Susan Elizabeth: I love Los Angeles for the environment, but I've never played there, though I'd like to.   I enjoy playing in Brooklyn, NY because my friends and fans are mostly here.   Manhattan was more for my band days, so playing local is nice.
'Wine & Cigartettes' Audio Snippets:
Stoli: What kind of mind set & environment are you most comfortable to record & create music?
Susan Elizabeth: I have a second bedroom in my apartment that is a studio for me.   I write all the time, on post-its, receipts, my Blackberry.   To record, I have to be in my studio.   I'm comfortable working with Nuendo and Reason, and I HAVE to be alone.
Stoli: This country is having a huge problem with people losing their jobs. What role can music play to help people cope and escape the reality?
Susan Elizabeth: I think music, for me, is my soundtrack to life.   I am constantly playing music, listening for new bands, indie bands (like Rachael Sage and Sara Brenner), buying music like a lunatic on iTunes.   Music is the heart of things, and it can control your emotions.   I think people should find that one song, or songs, that inspire them to carry on and make something of the horrible state that the U.S. is in.
Stoli: What gets you most excited about your new album and releasing it?
Susan Elizabeth: I just love sharing music that I've written.   I'm proud of my work, and I hope that it affects others in some way, hopefully in a positive way.   I want people to listen and be inspired.
Stoli: You reference your transition to Buddhist values. What does that mean to you & does that come out in your music as well?
Susan Elizabeth: My Buddhist values come out in my lyrics through love.   That's what Buddha preached, when you dig through all the scripture.   Love is at the center, and with a song like "All Comes Down," the key factor is love.   That's where it's at.
Stoli: Does it bother you that major labels insist on marketing pop-bullshit artists
when the people want real musicians with authentic music like you?
Susan Elizabeth: Well the major labels aren't what I focus on, to be honest.   They are making pop-bullshit artists.   But I don't care.   People will start listening to "us".   We're ready to take on the world.   I think people will get bored with the cookie-cutter shit and eventually want to hear what's real.  
Stoli: where can readers get more from Susan Elizabeth and what can we look forward to?
Susan Elizabeth: I have a blog www.wineandcigarettes.net, so potential fans can read about what I'm doing.   I'm actually working on my next album called "Both Ways."   There will be songs about both women and men, so it's meant to be pretty funny.   With a song like "I'm in love with your girlfriend," people may react kind of strange to it, but I think it'll perk up some ears.