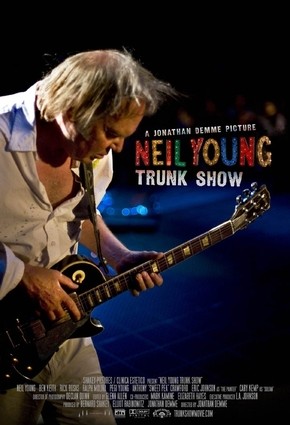 Neil Young Trunk Show – a concert film starring Neil Young – will be released on Blu-Ray and DVD by Reprise Records later this year. The film is the second in director Jonathan Demme's planned trilogy about the legendary rocker.
Demme also directed the 2006 Young documentary Heart of Gold. Following that film's premiere at the Toronto International Film Festival, Rolling Stone called it "an unconscious, raw, in-the-moment concert movie that respects the immediacy of creativity and the creator."
 
Shot on hand-held HDCam, HDV, and Super-8mm cameras, Neil Young Trunk Show features scenes from two shows that Young performed at the historic Tower Theater in Upper Darby, PA, on his 2007 Chrome Dreams II   theater tour. Fans are treated to acoustic and electric tracks that span his entire songbook, including rarely performed songs like "Mexico," "Kansas," and "The Sultan," the classics "Cinnamon Girl," "Cowgirl in the Sand," and "After the Gold Rush," and more recent work including "The Believer," and an astonishing 20 minute version of   "No Hidden Path." The film also features some offstage and behind-the-scenes footage. Demme's film credits include the Oscar-winning dramas Philadelphia and Silence of the Lambs, and the more recent Rachel Getting Married.
 
Theatrical screenings of Neil Young Trunk Show will be held across the country for one week beginning on March 19th.