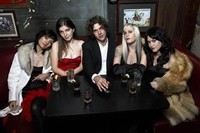 One guy and four girls creating a full 'n' flavorful sound—genius idea here!   The richness of the vocal arrangements & harmonies is right on point.   Ash Gray sings up front while his Girls sing along in a most powerful fashion.   Gray and his ladies are takin' you back in time with the focus on group harmonizing.   Ash Gray And The Girls are goin' retro on you with a classic & modern charm about them.
You have NY-based singer/songwriter Ash Gray on lead vocals & guitar and then the talented & lovely Girls are:   KG, Helen, Mary and Abbi.   Mick Fumento adds in percussion to the whole project and Gray refers to this musician as "a great contributor to our overall sound."   Ash actually started a few years back in NY for a 90s hard rock throwback group called Cycle Sluts From Hell.   Ash Gray now introduces a power vocal, pop/rock group for the ages!
The EP starts up with a track titled "Your Gun Is Out" that is straight rockem' sockem' pop with a fun-times vibe and silky-smooth harmonies.   Next up, "Wild Night", gives you happy-go-lucky & feel good music to raise your drinking glass to.   On song three, "Rules", the back and forth singing between Gray and his Girls gives off an incredibly catchy & unique dynamic.   On "I Never Said I Love You", I am a huge fan here of the crisp acoustic guitar playing that comes across as supremely natural.   On the throwback jam, "Rock N Roll Record", I'm hearing a classic oldies effect with good old rock 'n' roll gleaming from the vintage record player.   I would call this the ultimate jukebox jam for 2010!   In the words of Billy Joel and this statement will stand true until the end of time: "It's All Rock 'N' Roll To Me."   Track six, "Sunny Day", shines bright with a classic 60s rock element that is both groovy & hip.   I also have to add that KG, Helen, Mary and Abbi really hit some BIG notes on this song.   I, for one, was definitely impressed after hearing this vocal performance from The Girls.
One thing is for certain after the completion of This Could Be A Wild Night and that is there is nothing BACKUP about The Girls.   These four women are standout singers that have got the chops and are not messin' around here!   Ash Gray and The Girls compliment each other wonderfully and I would say no looking back now.   What you see is what you get and what you get is a winning 5some!   For more on this exciting, new group Ash Gray And The Girls and their new release, This Could Be A Wild Night, SKOPE out www.myspace.com/ashgrayandthegirls.   This could be a wild night because Ash Gray And The Girls are livening up the music scene with their wildly fresh sound.
By Jimmy Rae (jrae@skopemag.com)
[Rating: 4/5]