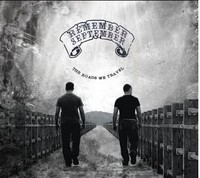 There are a few things that come to mind when I think of the month of September.   The first and foremost would be the unfortunate tragedy that hit us all on that unforgettable day of 9/11.   Labor Day, the first day of fall and of course my mom's birthday would be other events I ALWAYS remember in September.   But now…I have another reason to remember September!
This new album titled The Roads We Travel will give you plenty to talk about and recollect.   This rock group from Connecticut is so much more than just an ordinary rock band because of their diverse style.   On this record, I'm hearing elements of rock, jazz, funk and country all thrown in to the mix.   What you get is an eclectic set of nine songs that will definitely not leave you hangin' or bore your senses.  
Remember September is comprised of five official members:   Jay Schod on acoustic guitar & lead vocals, Chris Schod on lead guitar & vocals, Gerard "G" Awad on drums/percussion, Dave Savitsky on tenor & alto sax/vocals and Eric "lilschoddie" Schod on bass guitar & vocals.   There were also other key contributors toward the making of this project and they are:   Jay Stollman on percussions & vocals, Luke Milbury on bass guitar, Matt Oestreicher on keyboards, Nick Bariluk on keys & strings, Lyris Hung on violin & fiddle and Evan Green on keyboard.   Plenty of Schod and lots of musical talent to go around here!   In the end, the combination of players are giving you a refreshingly original taste of music.
The CD starts up with a song titled "Empty Space" that has a very funky jazz/rock sensation to it.   Smoothness at its finest here with "Empty Space" coming full with absolute flavor.   You experience a very light jazzy flow on the following track, "Can't Fix My Fixations", while on the song "Innocence" you receive an innocent tone of simple rock trueness.   On "Fly Me Back Home", you really get a sense that the entire band is in the zone and just feelin' it.   The chemistry here between musicians is simply unquestionable and unmistakable.   On track six, "Do You Remember", you hear Jay Schod singing with an abundance of feeling that really hits the listener.   These artists decide to close the show with a real rocked out performance on "Long Way From Home."   The whole band is just tearin' it up on this one and honestly I would have loved to hear a few more all-rock-driven songs throughout the record.
After it's all heard and listened to, I have to say that this band did an excellent job putting together this album.   There's a lot of jazzy rock goodness here with an enticing sound for everyone to enjoy.   I have to say also as a former alto sax player that I loved the sax effect on this disc.   The saxophone seems to be one of those instruments that jive extremely well with rock music and in turn add an extra layer of coolness to the whole thing.   Dave Savitsky was definitely that cool factor here thanks to his whaling alto & tenor sax.   Chris Schod really impressed me as well with his kick-ass guitar solos and lead singer, Jay Schod really stood out to me vocally.   This group did it BIG and I will definitely not forget Remember September…no doubt about it!   For more on Remember September and their latest release, The Roads We Travel, SKOPE out www.myspace.com/rememberseptember.  
By Jimmy Rae (jrae@skopemag.com)
[Rating: 4/5]