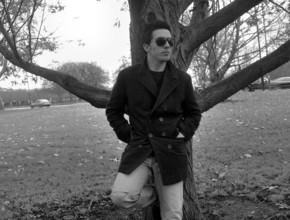 Are you ready for some catchy, soulful pop melodies with a nice dose of rock???   Well, I hope so because that is exactly what singer/songwriter, Steven Bryan is bringing!   This London-based artist bears heavy roots to both Italy & the UK, but now sets his sights on hitting it big in the states.   Gearing up for an exciting 2010 U.S. Club tour, Bryan couldn't be more thrilled!  
Looking to expand as a musician, here is what Steven Bryan had to say: "I'm very happy to have the chance of promoting my project in the U.S., so that I can turn the page and move into the next chapter of my book."   So as you read, I hope you truly enjoy this young man's story about chasing music stardom.  
 
Jimmy Rae:   First I have to ask about your Italian-born name Francesco Dell'Orco and why you didn't stick with that?   Why, how and when did you come up with Steven Bryan?—Just easier to say I suppose, LOL
Steven Bryan:   I was partying with some friends of mine in London and we were having a blast.   We somehow ended up talking about my music and all agreed that I had to pick up a different name.   They literally said: "Francesco Dell'Orco don't work dude, nobody will never remember that…"   Then one of the guys came up with a cheesy Steven Bryan Oldfield, which was one of his schoolmates years before.   I was totally excited about that name until I realized it was because of those cheap drinks… That's why I woke up the very next morning, cut off that awful Oldfield surname and did stick only to Steven Bryan.
The rest is history.   And… well, you're right… it's a lot easier!
Jimmy Rae:   I see that your interest in music started at the young age of eight thanks to your close cousin supplying a tape of songs that included the artists: The Beatles, Cat Stevens and Guns 'N' Roses.   What went through your head then and what goes through your head now as you think back to that defining moment in your life?
Steven Bryan:   Well, I remember that moment as it happened just yesterday.   I have probably listened to that old tape a thousand and more times.   Childhood is an age of revelation: that day I discovered music and I have never ever let it go.   Thank you Doctor!
Jimmy Rae:   I know that you have many musical influences, but who is at the very top of your list?
Steven Bryan:   This is always a hard question to answer.   Let's say I grew up with hundreds of dads!   As a singer, I'm in love with some amazing vocal talents such as: Elvis Presley, Robert Plant, Mick Jagger, Bruce Springsteen and Jon Bon Jovi.   As a songwriter, at the very top of my list there is Bob Dylan, then Paul McCartney, John Lennon and George Harrison (all equally superb); finally I would name Paul Simon, one of the greatest of all times.   Now shake well and serve chilled! LOL
Jimmy Rae:   I understand that songwriting has been a big part of your life since you were 14.   What is it about the ability to write lyrics for songs that truly tugs at your heart & soul?
Steven Bryan:   There is no standard method or "magic recipe".   Basically, it's all about mood, and what determines that specific mood.   If you're mad at the world you won't be able to write songs about hope, if you know what I mean…
I always try to write songs that move people; I want them to get my message.   I'm not going to follow whatever the trend happens to be at the time because I wouldn't be true to myself as a songwriter.
Jimmy Rae:   I see that you've worked with many talented musicians over the years, so what do you have to say to those band-mates then and now?  
Steven Bryan:   A big, resounding thank you, I suppose!   I am what I am today also because of the many extremely talented musicians I met during the journey.   I'd like to mention Nick D'Elia, CrazyMind and Dominic Giannetta among others.   In particular a huge thank you goes to Francesco Lo Castro, awesome guitarist and producer whose music knowledge and talent are second to none.
Jimmy Rae:   During my review of your EP, Let Me Stay, I stated that "The four-song set is a rock recording with some soulful pop melodies."   Would you agree with the statement?   Is this the record that will define who you are as a recording artist NOW?
Steven Bryan:   Totally.   I like those lines!   The EP is a tasty starter of what the new album is going to be.   It will be released in March and it will give a 360 degree view of who I really am as an artist today.
Jimmy Rae:   I also say during my review that "Melodies are key on this disc with radio-friendliness screaming in the background."   Do you agree with this and why?  
Steven Bryan:   Absolutely.   Melodies are always the key to great songs.   Many bands don't get it nowadays.   That's why I don't like most of the music out there.   Especially in the UK where genres like indie/garage/punk rock hit it big.   Personally, I think that only a great melody makes a song live forever and not for a season only.
Jimmy Rae:   What made you move to London in 2007?   Personally, what was the significance of moving to that specific location?
Steven Bryan:   I like to consider myself as a world citizen.   Or, basically, I get tired of living in the same place for a long time.   Musically speaking, I was born in the wrong place, I've been listening to American and British music all my life and I chose English over Italian as my artistic language since I started writing music.   London was a big challenge for me; this is the city where artists such as Beatles, Stones, Zeppelin and Jimi Hendrix became legends.   However, as I mentioned before, London has lost a lot of charm to me, and I'm quite disappointed about the UK music scene lately.   Therefore, I'm very happy to have the chance of promoting my project in the US, so that I can turn the page and move into the next chapter of my book.
Jimmy Rae:   Being as you've lived in Italy but now live in England, what would you say are the major differences between the two countries?   Any similarities?   What did you like most and what did you like least about living in Italy?   London?   What are some of your favorite attractions in both Italy and Great Britain?   And hypothetically speaking, say you were a travel agent trying to entice a couple on traveling to these fine countries—what would you tell them?   And here's the kicker: this couple has never seen anything but the U.S., so you really have to sell this one man!  
Steven Bryan:   Italy and Great Britain are quite different.   In terms of beauty, Italy is a way superior.   Florence, Venice, Rome, Milan are only the famous destinations, there are thousand of hidden gems all around.   Then great food, amazing mountains and seaside, enchanting lakes (ask George Clooney).   However, UK has its pros.   Job opportunities, faster bureaucracy, and London is still a stylish, attractive city.   A tip for that couple: visit Italy from north to south, fancy some amazing food and wine, but don't forget to pay a visit to London as well.   Don't miss Camden Town!   It's the best place in the world to me, the atmosphere in the markets is always exhilarating with everyone doing and wearing whatever they please!   A must-try!
Jimmy Rae:   I know that you have a 2010 tour scheduled, which I'm sure you're very excited about.   Would you care to delve into that more with the SKOPE audience because I'm sure they are all dying to hear more details from Steven Bryan himself?
Steven Bryan:   Well, I'm absolutely thrilled!   I want this tour to be a milestone and I know it will be a lot of fun for everyone.   In April, me and the band are going to play 15 shows in 21 days and hit cities such as: Portland, Boston, New York City, Philadelphia, Washington, Baltimore, Richmond among others.   Besides, there will be a wide promotional campaign thanks to college radio, TV shows and press.   And all this couldn't have been possible without the help of my great project manager, and friend, Eugene Foley.   He's an awesome and experienced professional… he's the man!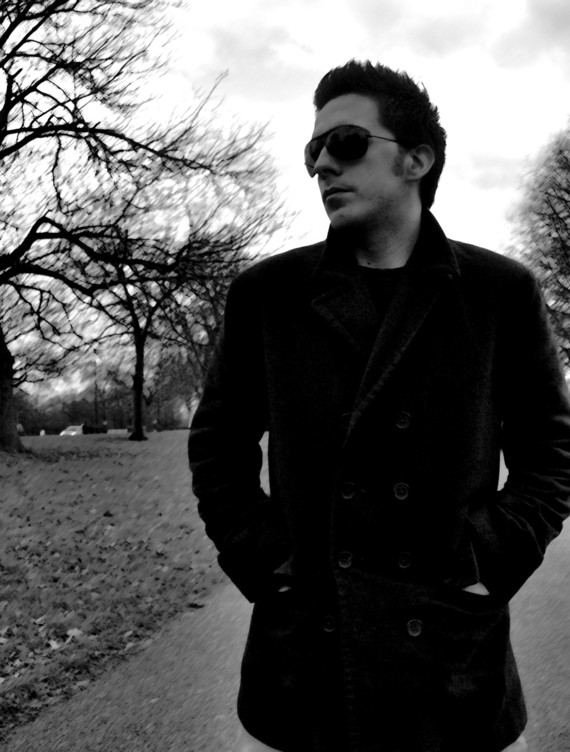 Jimmy Rae:   Have you ever been to the United States yourself?   I know you'll be in the States this year due to your exciting 2010 U.S. Club Tour, so how are you anticipating that?
Steven Bryan:   The last time I've been to the US has been last June.   My girlfriend and I have toured by car California, Arizona, Nevada and Utah.   What an incredible experience!   Those roads and landscapes have literally taken my breath away.   A tank of inspiration too!   I wrote a couple of songs of the new album during that stay.
You know, I really think this tour will be a blast.   The new album kicks ass, I have a great band and a lot of talent will be hitting that stage.   I have always considered London as a sort of gateway for the US, this is a great opportunity for me and I won't miss it.   I'm ready for the big time!
Steven Bryan "Let Me Stay" MP3:
Jimmy Rae:   Any hobbies you enjoy doing in your spare time when not doing the music thing?
Steven Bryan:   Well, I'm a huge fan of cinema, I'm totally addicted!   Give me a (good) movie, and you'll make me happy!   Recently, I would recommend "The Wrestler" with Mickey Rourke, the best movie I've seen in years, and "Into The Wild" by Sean Penn, a sad masterpiece.   Don't miss out.
I've been traveling around the world since I was just a kid and I will keep doing it till I'll be able to.   Traveling is the essence of life.
Then I love playing tennis and European football, the one you call soccer.   I love watching it too; I'm a big AC Milan fan!   Speaking of which, there's a match in half an hour, can we speed up a bit? LOL
Jimmy Rae:   Finally, anything else in the works that you'd care to talk about or any news you'd like to share?
Steven Bryan:   As I told you earlier, the new album will be released in the first week of March and we will then fly to the US for a great club tour in April.   I want to invite everyone to our gigs!   We're setting up a fantastic live show, check out the dates on my website and join us if you want to live an unforgettable night!   See you there folks.
For more on this worldly citizen, SKOPE out www.myspace.com/stevenbryanmusic.   Check your local listings to see if this talented singer/songwriter/musician is coming to a city near you.   And then get ready for the BIG Steven Bryan 2010 U.S. Club Tour coming soon!!!
By Jimmy Rae (jrae@skopemag.com)