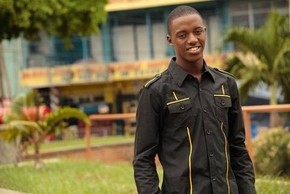 Romain Virgo will be releasing his introduction EP in March and debut album in May. In 2007 singer Romain Virgo, then just 17 years old, made history as the youngest person to win Digicel Rising Stars, this TV talent competition is the equivalent to the U.S. American Idol.
Romain clinched the contest with his rollicking interpretation of Stevie Wonder's "Sir Duke", which earned rave reviews from the judges and a standing ovation from the studio audience. Romain also won the hearts of the TV viewers with his good-natured humility and robust vocals, which evoke the essence of revered soul stars Sam Cooke, Otis Redding and Marvin Gaye.
He is currently enrolled at Edna Manley College of the Visual and Performing Arts in Kingston while he pursues his music dream. Surrounded by poverty and violence Romain pushes forward for a better future, a better Jamaica and a better world. Romain represents a positive side of Reggae. A genre that has been plagued by various negative images and themes; Romain writes his own songs and wants his music to make a difference worldwide. He recognizes the power that music has over people and wants to use his power to evoke good.
Romain Virgo – "I Want To Go Home"
[youtube JaRm73bjb-0 nolink]
Romain Virgo – "This Love"
[youtube jNRQJSxL5a4 nolink]