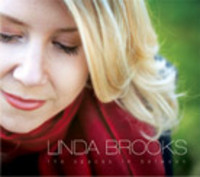 Linda Brooks is a singer/songwriter from Canada who has a lot to say after years away from music making.   Her debut album, Under A Painted Moon, earned her an East Coast Music Nomination for Best Female Artist.   After that, motherhood came calling as Brooks had a family to raise and therefore her music career put to the side.   Family should come first for everyone and that is why Linda Brooks went from being a singer/songwriter to a mother/nurturer.   I'm pleased to announce though that the fire inside to make music never died for Brooks.   Now that her two kids are older, Linda decided to get back into the game and finally churn out a follow-up album.   The Spaces in Between is years in the making as she now has more wisdom and cherished experiences to feed off of.
It's ironic that Brooks comes back with years of motherly experience because the record exudes a sense of warm nurturing.   Linda's vocalization displays meaningful lyrics that will leave you with a comforting feeling.   There is such a positive & uplifting glow about her through her performance on The Spaces in Between.   Linda's nice-sounding, pleasant voice gives off an aura of warmth & content that is absolutely contagious.   The Halifax, Nova Scotia-based singer/songwriter sings with so much feeling wrapped up in her music.   Linda Brooks has a powerful force known as mom instinct that stands tall and never goes away especially on this new album.   Once a mom always a mom as Linda now plays to the tune of singer-mom/songwriter.  
Classified under the category of Indie Adult Contemporary, Brooks starts things off with a heartfelt song called "Tryin'."   On this opener, you can literally hear the overload of passion coming out of her with a very nice, overall feel.   Track two, "Stranded", I pick up on a slight country-sounding tone to go along with a simple & tender vocal approach.   Next up, "Not Gunna Take It", has piano playing that adds a nice touch as Linda sings directly from the heart.   On "Never Better", I witness a grateful & thankful spirit in Linda Brooks as she continues on to offer us motivational & inspirational words on the track, "Shining."   On this number, Brooks simply states that "We should be shining!" simply because "we're brilliant inside."   I have to say that "Hand of a Stranger" hit me the hardest because of its powerful impact it had on me.   This song was actually inspired by her sons' concerns for the people that were affected by Hurricane Katrina.   Their true love & innocence toward a devastating tragedy that hit us not long ago comes through shining bright on "Hand of a Stranger".   This song helped me realize just how special kids can be as you experience nothing but sheer honesty on this track.   Knowing that this song originated from a child made me feel really good inside and also made me realize that there still is hope for this crazy world.   The poignant message here is to simply help a complete stranger in need that may be down on his or her luck.   Linda sings, "Use the hands that God gave you to help him up" and that "You might find Heaven here again."   Wow!   I'm just so blown away by everything this song represents that I can't say enough about it!   One other great line here would be:   "We say we're busy, but really we're lost."   This quote really made me think twice because it has simple charm while also exhibiting a true, harsh reality in the end.   By being constantly busy, which most of us are today, Brooks is saying that we have lost touch with reality somewhere along the way.   This thought is something to ponder and really take in because Linda Brooks and her sons are trying to show us the RIGHT way.  
In the end, the only thing I would have liked to hear perhaps would have been maybe a few faster, more up-tempo songs.   I have to say though that I am more than satisfied with the finished work here.   Linda Brooks proved to me that she is a wonderful singer, an excellent artist and a great mother.   I'd like to get right to the core of matters by leaving you with some words to live by:   "We can learn so much from the pure hearts of children and I wouldn't be the writer I am today if I wasn't also a mother."   Linda captures the true essence of The Spaces in Between in that one sentence.   For more on this Canadian singer-mom/songwriter and her new release, SKOPE out www.lindabrooksmusic.com.  
By Jimmy Rae (jrae@skopemag.com)
[Rating: 4/5]