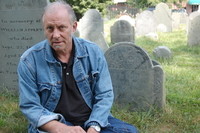 This singer/songwriter from Boston has been a major staple within the city's music scene for over 30 years now.   Suenos De Los Muertos is a highly anticipated album for Brebner because it is the first in four years.   With life-changing experiences hitting Asa over these last four years, it seemed like perfect timing to sit down and record new songs.   Asa Brebner had plenty of fuel to light this fire, which is Suenos De Los Muertos.
Asa really made a name for himself when he started playing & touring with Jonathan Richman's Modern Lovers & Robin Lane and The Chartbusters.   That was then and this is now as Brebner continues to make his mark as a solo artist.   There are many guest musicians featured on this record like Andrea Gillis, local talents and then just some of Asa's good friends.   It is also worth mentioning that this album was mixed by the well-known Boston engineer, Ducky Carlisle.  
Getting right into the thick of things, the CD starts up with a peppy rock number titled "You Won't Know Me."   This song offers an easy-going flow along with some very nice harmonies sung by the backup singers.   Next up, "Tired and True", brings you a straight rock groove while "My Blues is Over" gets bluesy to the core.   The next track, "I Am Not Gone", really tugs at your heart & soul thanks in part to Asa's deeply personal lyrics.   Here, Brebner sings with so much raw emotion while the guitar playing noticeably stands out.   I also have to say that the deep-rooted vocalization in "I Am Not Gone" reminded me a bit of the late Johnny Cash (R.I.P.).   On the track, "Name Damage", you get a rockin' drum beat while the guitar is servin' up some goods!   At the end of this song, you even hear the voice of the late Mr. Rogers (R.I.P.) talking about love–crazy stuff!   On the next number, "Like It or Not", I loved the hand clapping effect because it added that element of fun to the mix.   You witness a solid instrumental session on "Erkin's Revenge" where I even picked up on a reggaeish beat.   "Come Back to Me" will have you doing the Cha Cha Cha to the sounds of some Spanish Flamenco added with a little Mexican pizzazz.   Asa decides to test your funny bone with "AllNightUpTight BagBiteKokainePah" with this wacky & funny installment.   The groovin' party atmosphere is set here as Brebner takes you back in time where "Grand Funk is playing from the 8-Track player."   This song is wildly humorous as Brebner & his friends let it all out by bringing some laughs to the table.   Asa ends the album with a bit of classic charm and oldies sound.   "Gurl" has that vintage 50s rock sound all the way here from the backup singers giving you that Barbershop quintet feel to the whaling sax to even the drums offering up a jumpin' & jivin' beat.   Those Happy Days of the 50s rock & roll era were alive and well again thanks to Asa Brebner and The Cool Catz–LoL.  
After listening to the album in full, I have to say I am most impressed by the way Asa mixed so many different styles together.   I'm also pleased to hear how well Brebner can switch up emotions from song to song.   Happy, Mellow, Sad, Painful, Funny—you get all of these aspects here wrapped up into one unique package.   Only thing for me was that it was kind of hard for me to figure out exactly who Asa Brebner is as a musician/artist.   I never did quite grasp this, but maybe that's what makes Brebner and his music special.   You never can and aren't supposed to fully understand the mystique that is Asa Brebner and his new project Suenos De Los Muertos.   So, just have a good time and enjoy it!   For more on this singer/songwriter from Boston and his new release, SKOPE out www.asabrebner.net.
By Jimmy Rae (jrae@skopemag.com)
[Rating: 3.5/5]