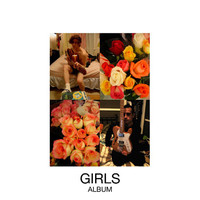 Album, the debut release from Girls garnered all kinds of buzz in 2009. Visceral to the Nth degree, this loose and jangly collection was ode to the dreams of youth which arrive and dissapear so flagrantly. And it was exactly the kind of obnoxious shot in the arm the indie world needed. It's an interesting listen, months after the hype it was surrounded by around the time of its release. Very often, records like Album fade into obscurity in this on-demand world of ours, as consumers line up eager not for what's now but what's next.
But Album is different. It strikes a chord. For all its summery, flowery psychadelic-pop, Album resonates quite well udner the dredge of snow or the depression that might come with a week's worth of rain. Intense, jangle-heavy crackers like "Lust For Life" and piping hot, lo-fi acoustic wonders like "God Damned" don't so much preach a message as they breath it. Summer, or the ethereal joy that summer brings isn't a time during the year. It's a state of mind, and it's one that Girls employ with reckless abandon.
They throw caution to the wind on the surf-rock classic "Big Bad Mean Motherfucker" and evoke jaw-dropping sunsets with a simple, gorgeous rippling riff on "Curls" and those are just a few of the cuts. Girls likely didn't set out to capture the mood of summer on Album, but that doesn't really matter. It's a record for those who ultimately become a different person under the sunlight. Album is a record which seemingly doesn't try too hard. And that's the ironic thing; for all the buzz it garnered many months ago and as carefree as it is, Album is still on its way to becoming an indie classic.
By Joshua Kloke
[Rating: 4.5/5]