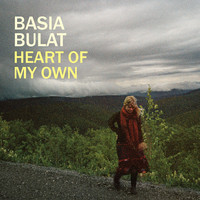 Heart of My Own, the latest from Basia Bulat is as powerful as it is beautiful. The folk songstress captivates listeners with her warbling howl, which reaches new heights on Heart of My Own. After touring her debut, Oh, My Darling extensively, Bulat has gone and perfected her ability to let her howl rise and fall with emotional palpability. "Run" is a glaring example of the depth of Bulat's emotional output. It's a handy folk-pop masterpiece, but stretches with the sort of poignancy normally reserved for stirring, traditional Irish folk songs. Bulat's voice evokes vast, rolling landscapes before the song has even hit the opening chorus.
Not every track is as grandiose, however. Bulat allows listeners room to breathe on Heart Of My Own, while still staying true to the folk roots which originally brought her acclaim on Heart of My Own. "Sugar And Spice" displays a delicate honesty, complete with classic finger-picking and subtle strings. And "Once More, For The Dollhouse" presents a quiet, shuffling rhythm that, for all its simplicity, still somehow manages to add bright strokes of paint to Bulat's quickly forming legacy.
And while the aforementioned tracks are a few of the quieter tracks on Heart Of My Own, they still feature Bulat's pipes rather prominently. And being that Bulat's voice has the innate ability to stretch almost endlessly, it makes sense that rolling hills and long, winding roads feature significantly in the imagery Bulat draws up. "Walk You Down" is one of the harder tracks on the record, featuring a crunching rhythm. Bulat paints herself as a lost soul, and it all works rather well. And I couldn't help but picture "Gold Rush," the record's lead-off single as the new soundtrack for Tourism Ireland. The lush, rolling landscapes Bulat sings of are paired with a thunderous and repetitave rhythm. Bulat's sound is an envigorating and can't be contained. And with Heart Of My Own, it's hard to imagine why anyone would want to.
By Joshua Kloke
[Rating: 4/5]


Listen to "Once More, For The Dollhouse"
[audio:http://skopemag.com/audio/Basia Bulat_10_Once More For The Dollhouse.mp3]