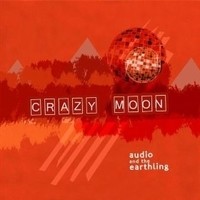 It's amazing to think that this album, Crazy Moon, happened by complete chance.   Singer/Songwriter, Dave "Davo" Evans walked into a Missoula, Montana studio just wanting to record some folk songs.   Next thing Evans knew, Ryan "Shmedly" Maynes would turn Dave's folk music into an Electronic, Dance Explosion!   Maynes wasn't only the studio owner of Club Shmed Studios but also had an extensive & impressive music background himself.   Since the opening of his studio in 2007, "Shmedly" has recorded over 35 records.   Ryan was about to transform Dave's music into something so exhilarating that there would be no turning back.  
The CD has a major 70ish, Dance Vibe that is so overwhelming it will make you put on your vintage platforms and "Boogie Oogie Oogie" down.   The electronica/DJ effects are just crazy hot on this album and they add such an incredible dimension to the overall Audio And The Earthling sound.   The super sonic elements are literally coming at you from all angles on Crazy Moon.   "Schmedly" definitely introduced "Davo" to some brand new grooviness and in turn Crazy Moon is born.
Right away on the opening track, "Twisted Up", you get a flavorful mix of acoustic guitar, hip & jivin', jazz-like elements with far out electronic effects and a kick ass rock guitar to boot.   The guitarist is Rich Mouser, long time friend of Maynes, as he added a wonderful rock edge to the Super 70s Party atmosphere.   On the next number, "Yesterday's Coffee", psychedelic meets modern in this rejuvenated retro flashback.   On track five, "Mission Control," I simply loved the simple yet dominant drum beat along with the cool voice-over effect sung by Evans.   Throughout the entire recording, I picked up on Dave's hypnotizing vocals that were absolutely hypnotic in tonal quality.   The texturing and layering of "Davo's" voice was so brilliantly done here.   His singing makes you, the listener, want to listen up close to every word.   "Elevator Music" is so much fun due to its very fast & jumpy beat.   This song is extremely catchy and not your everyday elevator music by any means.   If I was in an elevator and this was playing, I'd be bopping my head back & forth to the infectious sound.   Evans says it best when he sings "Music is playing in my head" because this is the effect it has.   The final installment, "The Shit That Killed Elvis" not only offers a risqué title but also brings you a good-times jam for the ages.  
On Crazy Moon, I was highly impressed with so many different aspects that's it's hard to sum it all up.   For one, the styles of music that were picked up on here were:   70s disco/dance music, Electronic grooves, rock, jazz, funk and even back drops of acoustic guitar.   The beauty of this record was how the musical duo combined all of these styles into one special force.   That special force is none other than the "intergalactic" Audio And The Earthling bringing you a Crazy Moon that is out of this world!   Coming to a planet near you!   For more on Audio And The Earthling and their futuristic release, Crazy Moon, SKOPE out www.audioandtheearthling.com.  
By Jimmy Rae (jrae@skopemag.com)
[Rating: 4.5/5]