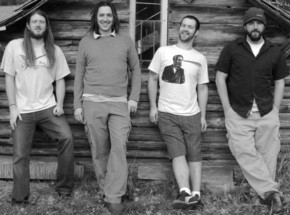 This week we have a band coming out of Washngton state by the name of Sideways Reign. I caught wind of these guys after being told of their first nationwide tour that they are kicking off this week. Sideways Reign will be playing venues from San Francisco to NYC meeting up with old fans and making new ones along the way. I have also been taken back by the lead singer, Justin Stang, who is not only very talented but a great guy as well. All the dates are posted on their Myspace page but before you see the boys live get to know them better here.
Stoli: Where are we speaking from today and what do you have going on today?
Sideways Reign:   We're currently out in WA state, braving the rainy season and rehearsing for the upcoming tour. Tonight we may sneak into a local open mic to see how some new songs are working out on stage and in front of a crowd.
Stoli: How did you come up with the name of the band, Sideways Reign?
SR:   We've joked about the ridiculousness of the weather we get here (Western WA) for some time-as we get all kinds of rain- and sideways rain had become a way of life for the band.   It was something we were familiar with and represented our WA home that we love.   We changed the spelling to Reign, to at the same time jest at crooked governments- Like music, hopefully someday, we'll be the only Sideways Reign in government too.
Stoli: There are four musicians in the band. How did you all come together and did you have a similar vision for the music you wanted to create?
SR:   Casey (Dehe, guitar) and Justin (Stang, vocals, guitar) are cousins and had been jamming for quite some time.   When Justin moved to WA from New York, they met Mike (Dennis, drums) through mutual friends and began what is now Sideways Reign.   Cody (Goodwin, bass) was originally a singer-songwriter (and fan of the band) that switched instruments, became the bass player and rounded out the line-up.   In terms of the vision for music, we all wanted to make something original that we were passionate about and the songs to be written and arranged to allow each member to input their own style and creativity on their respective instrument.   In that way we all certainly shared the same musical vision…
Stoli: What is the music scene like in Union, WA and what are some of your favorite venues to play out there?
SR:   Union is a very small, quiet and peaceful town in Western Washington on Hood Canal; however, despite it's size it has a disproportionately large number of artists and musicians making the community thrive.   There is always a little buzz pulsing through the artistic community and countless jam sessions, concerts, open mics and art exhibits have sprung up as a result.   The first place we played is in Union, called The Robin Hood Pub, and holds a special place for us.   We play there every year as sort of an anniversary party for the band and it's always one of our favorite shows.
Stoli: Your last album was 'A Stand For All Stages' was out in 2008. Are you working on a new album and how has the band evolved since that first full album?
SR:   We have most of the material written for a new studio album and are working to start recording before the end of 2010.   Since the 'A Stand For All Stages' album, I think we have become more focused and concise in our music.   We've always been minimalists with our studio production and now are translating some of that to our song writing process.
Stoli: How do four guys work to agree on matters of music and keep everyone on the same page?
SR:   We're all so close as friends and family, it makes everything music related very easy to talk about.   There are occasional minor disagreements, but the big picture always remains that if we weren't in a band together, we'd probably be hanging out every day anyway.  
Stoli: You guys are doing very well without a major label. Do you plan on staying independent or are you keeping options open?
SR:   Thanks!   We love the idea of independent music and are very happy with what we've been able to do so far on our own, but we are always keeping our options open for the best interest of the band…especially if the creative process we have remained intact.
Stoli: You are heading out on tour next month. Are you excited to venture out of WA and how do you decide where you want to play?
SR:   We are very excited about the tour next month, covering the entire US in five weeks.   Being our first major tour we will get to see so many new places and love the fact that we get to play a show everyday.   To determine our route and venues we find a few shows we all want to do and then fill in the gaps along that route.   On this tour we are aiming to play smaller more intimate venues to really make a great connection with our audience, many that may be seeing the band live for the first time.
Stoli: If you had to choose performing live verses recording in-studio what would you choose and why?
SR:   Performing live, no question.   The energy and buzz of a great show is certainly one of our favorite parts of being in the band.   While the studio is lots of fun creatively, there is less of the exciting atmosphere that only comes from the relationship between performers and the audience.
Stoli: How do you guys manage your personal lives while still giving your all to the band?
SR:   We all have very supportive and understanding families, when it comes to the band and we've all had to make a number of sacrifices in our personal life to have the proper time and energy to give 100% to the band.  
Stoli: What do you guys use as transportation for the tour and do you enjoy roughing it?
SR:   We have a 1997 Ford Clubwagon Van, which is a major upgrade from our last van.   We now have enough seats and seatbelts for everyone, which is what we've always wanted.   I think we like roughing it…we all have tents etc. and don't mind it at all.   In fact, we camped outside the studio in Seattle when we recorded "A Stand for All Stages"- which is another story altogether.     We're also staying with a lot of friends and family on the road, so it will be worth roughing it to visit with the folks we haven't seen in some time.
Stoli: Justin's voice is very catchy & stands out. Do you create instrumentals to enhance his vocals?
SR:   Not intentionally…We rehearse quite a bit and most of the songs evolve there from the initial song to the final product.   We try different melodies and arrangements and go with the parts we feel are working the best for each song.   We discuss what is working (or not) and then we build from there.   Occasionally we will try to make the vocals stand out, but its more for the lyrics or rhythm at that part than anything else.
Stoli: I really love the song, "Fire, Lies and Wine." What does that song mean to you and when did you record that track?
SR:   That track is from our first recording, an EP called 'Scale Mt. Epic'.   For us the theme is generally that no matter what negativity life can throw at you, things will be alright if you can focus on the love you have for another…
Stoli: What is coming up for Sideways Reign and where can readers get more from you guys?
SR:   For certain the big thing right now is the tour. We will be shooting a daily video blog tracking our path across the US while we're gone and keeping all of our fans up to date.   After that, we have a live album recorded that needs some mastering attention so it can be released this summer.   We always have good band related news, tour dates, info and contests at www.sidewaysreign.com or www.myspace.com/sidewaysreign and recently, we've been getting into twitter at www.twitter.com/sidewaysreign. Thanks, and we hope to see you on the road in February!