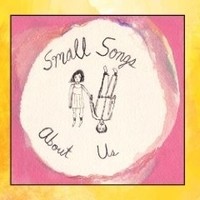 Feldiken's debut album, Small Songs About Us, is an album that EVERYONE can enjoy.   The record focuses on relationships, but more importantly Feldiken emphasizes the importance of connecting with people.   Small Songs About Us really does pertain to us then, as a whole.   We're ALL in this thing together, so why not gather around and sing some simple songs brought to you by Feldiken.
Love & romance is a very important factor in Feldiken's life as well as being a big inspiration toward the birth of this album.   Feldiken's then fiancée, Nancy, was the one who urged him to get back into music and start writing songs again.   That is exactly what the singer/songwriter from Brooklyn did as he cut a brand new record.   Years later, the couple is happily married and they have an ironic twist of fate on their special day.   When Nancy & Feldiken were united as husband & wife, Feldiken decided to unveil his other love of music.   On their wedding day, Feldiken handed out copies of Small Songs About Us to all of their wedding guests.   So on the same day, you have a truly special wedding and a CD release party.   What more can you want!   I bet life couldn't be any sweeter than it was on that day for Feldiken.   That must have been one special day filled with unforgettable memories.   It's best to say that love was in the air and dreams were alive & well on that glorious day.
Just as the previous story has a serious charm to it, the 10 songs on Small Songs About Us also exhibit that same quality.   Right away, you sense a different scheme of things from the voice of Feldiken.   The style was quite unique and a bit quirky at times with alt rock, pop and folk crashing together.   The record offered a very positive tone to go hand-in-hand with a happy-go-lucky flow.   Mellow grooves along with lightly textured, folksy-pop sensations are highly audible on the new album.   The tracks also offer plenty of fun & zany moments thanks in big part to the wacky accordion effect.   The CD seems to have an overload of youthful spirit/energy that appears to be glowing bright.   I couldn't help but notice that this burst of youthful spirit/energy displayed here would have made a perfect Children's album.   All of the elements are there:   kid-friendly melodies, fun times, jolly-spirited, simple-mannered, light 'n' easy singing and plenty of "Sha-la-la's" to go around.   I honestly think this record could have easily been tailored toward children and promoted as a Children's album.   I don't think this was the direction Feldiken was going in when he made Small Songs About Us, but I just call 'em as I hear 'em.   If nothing else, this album can be considered "fam-friendly" and quite possibly could be an instant classic amongst families everywhere!  
In the end, the message of keeping long-lasting relationships was heard loud & clear.   The only thing I'm confused about here is whether I'm supposed to be taking this all in as an adult-oriented piece of work or as a catchy, "fam-favorite" Kids album.   Based on my ears, I would have to agree with the latter, but I'm afraid that wasn't the intent here.   Maybe something to think about in the future because I really feel this album would be quite successful in the kids market.   That magic surrounds this entire project, so I'd recommend gearing your music more toward that direction.  
I'd also like to mention that I picked up on some really nice guitar sections throughout the recording.   You can purchase Feldiken's Small Songs About Us on iTunes as well as Amazon.com.   One amazing aspect here is that Feldiken is simply playing the role of a humanitarian through his music and that is a beautiful thing.   For more on this new indie artist from Brooklyn and his new release, SKOPE out www.myspace.com/feldiken.  
By Jimmy Rae (jrae@skopemag.com)
[Rating: 2.5/5]