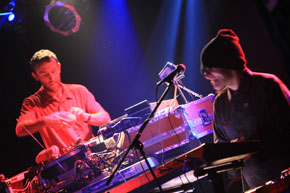 RJD2 performed at Masquerade in Atlanta last Saturday to a jam-packed crowd of backpack hip hop fans and college kids.

I've been to lots of DJ shows. The techno, trance variety never really impresses me – Tiesto and Paul van Dyk are talented producers but I just can't get into their live shows. All the lights and effects can't distract me from the fact that the dude is just standing there cuing up and playing pre-assembled beats. But I've also witnessed some intense turntable acrobatics from the likes of The Executioners — a group of virtuoso DJs including legend Roc Raida.
I didn't know what to expect with RJD2. He's shown he can engineer intricate beats fusing obscure tracks with turntable wizardry but how would that translate to the stage. My doubts were dispelled quickly that night. He came out in a welders mask and coveralls ready to scorch us with some hot beats. Three turntables were set up side by side and he moved quickly up and down the line switching records in and out, fingering the controls and swaying back and forth. He was intense in his concentration over his instruments like a mad audio scientist concocting ingenious musical formulas. The crowd was pumped especially on tracks like the soulful "Smoke & Mirrors" and the upbeat "Good Times Roll Pt 2".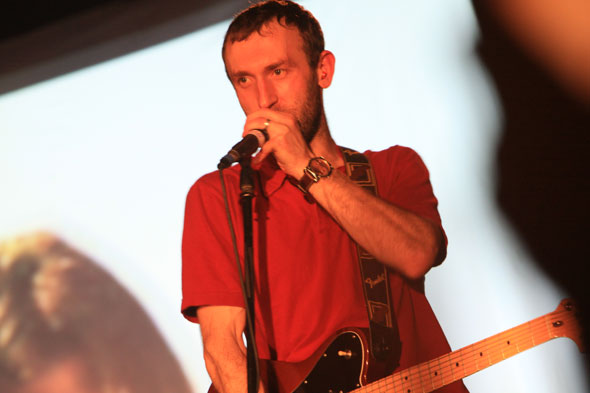 RJ branched out into live instrumentation and singing on his 2007 album The Third Hand. During the performance he traded the tables for a guitar and mic and took front and center stage. With the full band support he launched into some psychedelic rock. He demonstrated his versatility by really rocking out, something I certainly didn't expect to see. His vocals were a little weak, he doesn't have that much range, but it was adequate. After rolling through his band material RJ jumped back on the tables to close the night. It was a hot sea of bodies in the large upper room in Masquerade. The wooden floor moved under the weight of the enormous audience. It felt like we were inside some huge and ancient instrument — as the bass beats flowed through the room.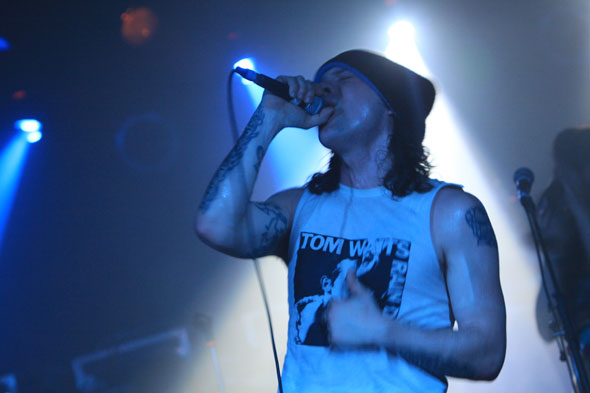 I can't forget to mention the opening band The Constellations. The 8-piece band are natives of Atlanta and by the crowd's enthusiasm it was clear that they had a lot of support in their home town. The band blanketed the audience with tightly crafted instrumentals and swaggering raps from front man Elijah Jones. Backup singers Alaina and Shabnam matched in shiny dresses with tambourines in hand and were all smiles as they sang and danced. They have an interesting style of electro blues with rap lyrics dripping with Southern swagger.