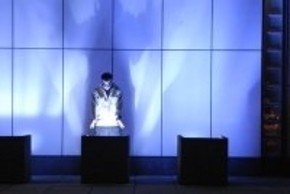 Tommy (Mr. Next) taught himself to play guitar, drums, bass and piano by the time he was 16. He is a one man band gone from drummer to producer, producing a hybrid of alternative funk and goth with a touch of electronic production and a loyalty to the acoustic guitar.  
He describes his music as Electronative Rock N Roll 2.0 because, "it leaves so much open".   "It's based on groove and comes from emotion, and has a lot of ambition".      
"I played in many bands on various instruments and was blessed with collaborations and experience with some brilliant musicians such as, Paul Oakenfold, Shock G/Humty Hump (Digital Underground). I was exposed to many styles and cultures from a young age, from opera to hip hop to metal to jazz to ethnic music." Tommy's success has come from word of mouth. He has never sent a demo to any record label and feels fortunate that he has been able to make a career for himself and get his name out with major artists and companies. "Paul Oakenfold heard one of my songs and featured it on a downtempo album that put me alongside an album full of major label artists, including Mark Farina, Imogen Heap, Paul Van Dyk, Dido, Thievery corporation, Goldfrapp, Massive Attack, Bloc Party, Ladytron, and Kaskdade. That album, Perfecto Chills vol 3, was the first worldwide release with one of my songs. It was flattering to be the only independent label included on a CD made up of major label artists." "I have also been lucky enough to work with people like Shock G/Humpty hump (Digital Underground), and to play on stage with members of Sly and the Family Stone (Larry Graham's band). The band I was in was being considered to go on tour with Prince for the 1999 tour with Larry Graham and Prince, but we broke up. The member of that band who invited me to join them had produced a track for Michael Jackson. "
Tommy Audio "Between Ur Lines" MP3:
"Adidas.com had a web-site based on the Kevin Garnett shoe. Six songs were used on a virtual jukebox to showcase the MVP basketball player's personality. Their were 3 songs to demonstrate his hyper side and 3 songs to demonstrate his chill side. Out of hundreds of songs they chose 3 of my songs to fill the 6 slots." "Meanwhile, on my own I have since performed in front of crowds that may have been as large as 200,000, while singing for a Peace march in San Francisco" "Overall, I've worked closely with the metal scene, the hip hop scene, the gothic scene, the funk scene, the rock&roll, the electronic scene and even some amazing persian/arabic artists. I have also dabbled in jazz, blues, reggae, and world music. Due to my exposure of such talented people in all these different genres, I have developed a unique blend of these styles."
"I am excited to be part of such a revolutionary time in the music industry which allows a solo artist like me to reach out to the world without the need of a major record deal."
Tell me about your childhood, where you were raised and family.
My childhood was full of opposing qualities and I'm certain it influenced my music a lot.   I was raised in an area that had the predominantly rich/white community on one side of my block.   Then, just down the street there was the poor/black community, living in uneducated poverty as so many others had extreme wealth and opportunity around them.     My parents, who also had opposing qualities, divorced when I was little so I spent a lot of time playing around and doing things on my own or with friends.     I found a drum set at my uncle's house at 8 yrs old and it was the beginning of a beautiful relationship.   Then I got my first guitar at 13, the same time I started my teenage party animal escapades.     I was surrounded by a community of smart, talented, funny and challenging people.     It made it easy to learn a lot of things…things that most people don't get exposed to so much at such a young age.   I grew up in the bay area, and now a lot of my friends are doing really big things.     It's just an amazing place to be…especially as a young musician.     It challenged me to play multiple instruments and styles, so I would become a versatile musician ready for the most excellent insanity that is taking place today.  
We didn't have a lot of money, yet we saw a lot of money so it made me want to work really hard.   I was raised in a world of logical, business minded people who just wanted to live a normal life, yet I wanted nothing of the sort.   I have always wanted more.     I have always wanted something…I don't know…epic.   I didn't fit into to a lot of the clicks and crews as a child.   Even though I was welcomed by them, I still didn't feel like any culture was my culture.   (Thank God for the music scene or I would be totally lost.)
Growing up in a nice neighborhood that was right next to a ghetto does something to you on a spiritual level as well as an artistic level.   It drives you to want to succeed and to help others with your success.   I have been lucky to be able to travel a lot and get to know tons of people from every corner of the earth.     (the earth doesn't have corners?)   I think that also had an effect on my music and my desire to come break down barriers and bring cultures together, or at least allow them to enjoy each other more.
Ever since I was little I have seen music as a huge and amazing art to be pursued, explored and even conquered.   I couldn't just sit back and pretend to be a normal kid while imagining all the history that should be made with music. I immediately started acting weird and starting bands.   It was a blast and I wouldn't change a thing if I had it all to do again.   In Fact, I think I am doing it all over again!   Except this time it's with a lot more toys and it's front of a much bigger audience.   I still have this inclination to wake people up out of their monotonous slumber and show them something they couldn't imagine.    
After high school I got a scholarship for an audio school and studied recording arts so I could be prepared for my producer days.     That school was shut down, and interestingly enough a party company I was working for took over that same school building, gave me the keys and told me I was running the studio!   I wasn't too smart with money, so I was often really close to being homeless and I eventually moved into the studio.   After all, it was our destiny to be together..   Because they had me managing their promotions I would be out at parties all the time, meeting all kinds of great people who love music, and hearing all kinds of great electronic music.   Meanwhile, I was coming back to the studio working day and night to record every possible idea I ever had, building my catalog, which I'm beginning to release now.    
At the parties I was also starting to get noticed by the scene as a drummer and guitarist who could figure out songs on the spot.   So I started jamming with DJ's and getting known as a freestyle guitarist who would play over records I'd never heard. People freaked out.   They were comparing me to Jimi Hendrix and Prince, saying I was doing stuff they'd never heard or seen before.   I even signed a few autographs for people…in clubs!   I thought it was kinda funny because I was just messing around having fun over whatever song was on, and it blew people away.     People who like to dance are pretty easy to please with a litte funk, that's all.     I started seeing how much fun people have in the clubs and really gained a lot of respect for the DJ culture, as it provides a huge outlet for tons of people everywhere…all the time!  
(I just wish the artists who made the songs would get some credit for being the ones behind all this great music the DJ's are playing.)  
I am currently trying to get myself up and running as musician style DJ who can play the clubs like a DJ, but with original music, or with guitar parts on top of tracks I might play from a laptop.     That's just one way to keep playing out and having fun, but ultimately I am still looking for my dream band, and would like to be playing live venues, with a crowd of people that could care less if the beat stops, because they're into the artist and the journey their music takes them on.
Who were your musical inspirations?
Some people who aren't musicians have inspired me:
Martin Luther King Jr., Jim Carey, Gandhi, George Lucas, Eddie Murphy and many others who broke barriers and rules to change the world with their bare hands.
The musicians who I could consider an influence because they made me want to do music:
Prince, Trent Reznor, Sade, Jimi Hendrix, Led Zeppelin, Pink Floyd, AC/DC, Les Claypool, Van Morrison, Jim Morrison, Violent Femmes, Muse, The Faint, Bright Eyes, Mr. Bungle, The Cure, Metallica, Depeche Mode, Moloko, Beastie Boys, Alice in Chains, Dr. Dre, Pantera, Pinback, Natacha Atlas, Chevelle, Enigma, Thelonious Monk, Bob Marley, Sublime, Death Cab For Cutie, The Seattle 90's scene, The DJ/Club scene, The Blues/Rock/Funk scene, etc.
Do you plan to do a full cd?
The first album is done and is about to be out in all major digital outlets this month!   For a while I posted it semi-privately on a bandcamp page, and now I'm going very public with it hoping to get it out to the entire world.     I'm really thankful for the support I've had from locals and from online fans.   There are definitely more albums on the way too. I already have a ton of songs that are in progress. Honestly, I like my new stuff way more than this album I'm putting out, but I'm probably just sick of it from having worked on it for so long.     It's like the neverending demo project that got out of hand or something.   But I need to start releasing something or else I'll get caught in the studio making song after song without every sharing it with anyone, or making any money (which I need to keep all this going).   I could potentially have another 2 or 3 albums done in the next year that I'm way more excited about!   I can hardly keep up with myself in the studio. I was getting carpal tunnel I was working so hard. If my hands weren't in such bad shape this past year I would've easily finished 2 more albums and started a band and played at all the places inviting me to play in the bay area. This album "blind" which I'm basically using to introduce myself, is a story line album with each song written as a chapter in the story. It took a little longer to make than my future albums (I hope), because I had to coordinate the lyrics to fit in the overall story line. It is a very simple album with very simple parts. I considered the main challenge of the album to write something extremely powerful or effective with as little as possible. (minimal beats with minimal guitars, etc).   If this interview comes out before it hits Amazon and iTunes you can get it at www.mrnext.bandcamp.com.
In the future I wonder if we will even release albums the same way. Maybe I will sell songs individually as I make them. In the back of my mind I have a plan to release an album one song at a time. Each month I'll put up a new song, then at the end of the year, there will be a complete album. Physical CD's are disappearing and eventually mp3s will rule the world. I'm adapting and thinking of ways to have fun while still being productive with the new environment.   I have a tendency to write songs in 3's and I think I will also be releasing trilogy's in the future.     Songs with Part 1, 2 and 3.     Each one will be a part of the other somehow.   It's already happening naturally so I'm just going to go with it and start releasing my music the way I write it, instead of waiting for the rest of album to come to fruition before I do anything publically.     (Does that make any sense?)   Nevermind.   Yes I have a CD :)
What do you want listeners to get from your music?  
Well, that's an interesting question because there are so many different things….freedom, escape, sympathy, empathy, strength, understanding, inspiration, a sense of community or association with others…how about an orgasm?   That's the ultimate goal of many songs!   (I have been told that my music has in fact evoked orgasms in more than one person…so I'm pretty happy about that and sorta feel like I've arrived already;)   But seriously, there are many things to evoke with a song. There are many revelations, emotions and fantasies to share through lyrics.   And there is an opposing quality that can take place during the experience of writing a song.   First, you might be writing it just to vent out your own emotions, not to share it with others.   Then you might also want to create emotions in someone else.     And those two things may not agree. What if you're frustrated about something and you're only venting that emotion, and not really trying to create that frustration in someone else?   I think if you released yourself through that song, then hopefully the listener will release themselves somehow too. You might bring them through your struggle, but you're also taking them to the same climax of release that you brought yourself to when you were making the song. (Sound familiar?).   That way you can have a happy ending.   Ultimately, I want my listeners to get a friend out of my music.   I was always the one who wasn't afraid to speak up about things most people are hesitant to bring up or explore.   I want people to hear things they want to be saying.   I want people to hear music they wish would be made.   I want people to realize they're not the only ones going through hard times or feeling how they feel.   And I want my words and music to remind people of what's out there.   That includes showing them a world of magic and tragic events that just might blow the roof off your mind enough to change your life.  
I also notice my contradictive personality traits really come out in my music.   Because I can be very serious with my music, but I'm mostly very playful in person.   People even tell me that I should go into comedy, yet I write these fairly dramatic songs.   So, along with the theme of opposites, I've noticed I have a tendency to want to two main things with my music.   I either want the song to stop you in your tracks and make you freeze in thought, or I want to make you move and groove to get down to the celebration it brings.     In a way, it's like trying to put motion with stillness in the same moment.     It's the ultimate challenge, and in my mind, it's the ultimate solution for music.     I think a great song embodies both happiness and sadness at once.     If you can do that you're definitely doing something worth sharing.     I loved U2 for their amazing blend of emotions.   When I listen to them I don't know whether to laugh or cry, and that's a huge compliment.     I think this dance of opposites in my head is from the contradiction of my personality being the type to often be frustrated with the injustice in the world, but also celebrating life as we know it…at all times.     I appreciate and enjoy so much about our world, but I'm also really saddened by all the unnecessary crap people have to go though just to simply live, and I think that comes out in my musical style.  
I can't stress enough how important I feel about music and it's impact on people everyday.   If one of my songs reaches millions of people one day I will be so happy to know I'm out there doing something for those people.   That's what some of my favorite musicians have done for me, and I'd love to give that same thing back somehow.   After all, we are asking for money for music, so that music better have some effect on you.   But if my music can make someone feel less alone, and more understood then I think I'm not only venting for myself, but I'm giving someone else a gift too.   Maybe they'll even get a sense of strength and understanding.   If I can inspire others to strive to be better people or to take chances in ways they normally wouldn't than I've accomplished a great deal. I want to take you somewhere else, even it's just for a few minutes.   That escape is enough to completely set you free from so many things that are bogging us all down from being basically happy. That's why all music is a gift, no matter what genre.
What would you like to be doing 5 years from now?
I would like to have had a successful tour with a great band. I would probably have at least 5 albums out, and I will have started producing others in my own studio(s), with the overall goal of making a great impact on music culture by helping musicians create epic music that will help people feel epic feelings and see epic sights in their mind's eye. After I've created a good life for myself and whatever family I may have, I will work hard to start a foundation that helps other musicians that may be struggling the way I did for so many years.
It's hard to be a musician in our society.   We are so desired yet so unattended to in so many ways.   Musicians, Comedians, Filmmakers, Models, Writers, Dancers, Artists, and even Porn Stars….all are in high demand to entertain the world on a daily level, yet most end up in poverty unless they get that big break.     Well, not if I can help it!  
(Not that i'm planning on starting a foundation for porn stars or anything, but you get the idea.   I mean, isn't that one of the most sought out material on the internet?   Music and Porn?   Yet everyone wants it for free….It's mind boggling how things in such high demand can go so unrecognized by the investors and philanthropists of the world.   They want to invest in money making schemes, not a hit based business that sells emotions…which I think are the most valuable commodity we can provide.)
I have a long term goal of being able to provide for others (mostly musicians, but for the audiences as well). My music career isn't just about getting a hit song, it's about making people's lives better somehow. If you're in a hospital bed and it means a lot to you to have someone come and play the guitar for you, then I will be doing that for you, no matter how rich or successful I become. In fact, more successful I become the more I will help people however I can. And that's one of the main reasons I'm doing anything for myself…so I can continue to do things for others. In five years if I have a touring band that's getting paid from my music I'll be happy….but if I have a touring band, an established record label, a few studios, a clothing line, a catalog of groundbreaking music and videos, a line of underwear (or something ridiculous like that), and a foundation for struggling musicians, then…I'll be really happy. I want it all, and I want it now! And then I want to enable others to get the same.   And I suppose 5 years is a fair amount of time to make that happen, but I have already put in those year and more.   I want to start getting this music out and be where I want to be in 5 years in the next 5 months!   It's taken a while for the world and the industry to understand what I've been trying to do, and hopefully I'm finally going to fit in with some of these clicks and crews this time.   I think this is the time for someone like me to fit in with all of them, and I look forward to being a cross-over artist who breaks some boundaries and looks back on this interview in 5 years being able to say "Done, done and done!"
www.myspace.com/mrnext
www.mrnext.bandcamp.com
www.sonicbids.com/mrnext
Written By: Diana Olson – diolson05@yahoo.com