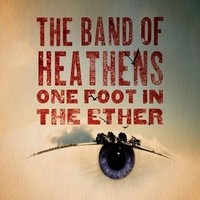 From the opening slow, grooving foot-stomping crunch of "L.A. County Blues," you know that One Foot In The Ether, the latest from The Band Of Heathens isn't a record to be taken lightly. Full of the kind of blue collar grit that country-rock ought to possess, The Band Of Heathens walk with a boisterous swagger that is equal parts Drive By Truckers and bar-room brawl.
As rough and tumble as The Band of Heathens often present themselves, they've got the kind of charm that sticks around until last call just to see to make sure everyone gets home safe. "Say" sounds like John Mayer might, had he been raised on a steady diet of Let It Bleed. The Band Of Heathens cross genres with remarkable ease, somehow creating a rollicking sound all their own. Though they're not without cohesiveness. Authenticity is the glue that keeps One Foot In The Ether together. "Let Your Heart Not Be Troubled" practically bleeds from the speakers, with the sway of the last dance that everyone always wants to have. And when you hear vocalist Ed Jurdi croon his way through the track, you pine for the same soul that he pines for.
It's that kind of swagger that keeps One Foot In The Ether afloat and will probably keep The Band of Heathens on the country-rock scene well past last call.
By Joshua Kloke
[Rating: 3/5]