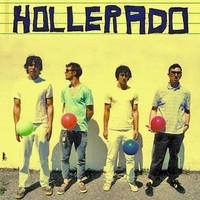 Hollerado are nothing if not one of the most unique acts coming out of Canada at the moment. Record In A Bag, the band's debut is a fresh, wholesome listen. The band may be young, but their punkish charm is so damn flagrant that they give new meaning to "Throwing caution to the wind."
"Do The Doot Da Doot Doo" pulls no punches about what it is, a feel good, sing-a-long anthem that crashes the party but brings drinks along for all to enjoy. "Fake Drugs" coos with a certain 80's sway, ripe with possibility and guitar licks that feel exactly how a guilty pleasure should. Hollerado most certainly wear their influences on their sleeve. And what happens when you realize this is quite a startling discovery; Hollerado is the kind of band you've been waiting for. Carefree in their aesthetic, Hollerado are so fucking cool without even bothering try. They're living in the moment, a moment which has seen the band tour both South America and China extensively. While so many other indie rock acts have trouble getting booked at their local pub, Hollerado, with tunes like the late-night groove and stomp of "Americanarama" have managed to make DIY success look truly effortless.
But "Effortless" as a descriptor of Hollerado might be a bit of a misnomer. After all, Record In A Bag is one hell of a personal listen. Forget the fact that a track like "On My Own," beats along with a certain Petty-esque authenticity that pulls you into the world of Hollerado, the packaging of Record In A Bag deserves due course.
Emailing the band gets you a copy of the disc in a clear plastic bag, with a hand-written note, and maybe even a postcard from their travels. Hollerado have managed to make their DIY approach personal, charming and authentic all the same. All hail the opportunity to hear a band that is not only ripe with catchy and memorable playful punk tunes but with a passion for what they do that shows itself in spades on Record In A Bag.
As so many decade end lists proliferate music publications, claiming that the 2000's were a time for indie, DIY acts to stake their claim on their ears of the youth, one can't help but wonder; whose approach is more fresh and invigorating: a band like Death Cab For Cutie, still somehow walking behind a thin veil of indie cred or Hollerado, an act bold enough to package their hearts in clear plastic bags?
By Joshua Kloke
[Rating: 4/5]