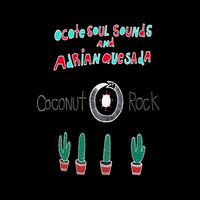 Listen up, this is how everyone should make an album. A brilliant mix of of genres, it blends seamlessly into a psychedelic/Latin/funk/dub masterpiece. I'd bet money that you'll be tapping your toe or dancing along to it's hypnotic rhythms by track five.
Sounding like Frank Zappa decided to do a Latin infused album with DJ Shadow; it's songs are so multi-layered and original, you'll find yourself coming back and enjoying it as much as you did the first time. Coconut Rock is bound to become a crate digging classic, and is just begging to be sampled with its endless collection of break-beaks. For a real treat listen to it with headphones on an be taken to another world in a music induced trance.
Featuring remixes from DJ Obah, Ancient Astronauts and Grant Phabeo that are just as fresh and original as the original songs, and will be played just as much as the rest of the album.
This is one of the best albums of the decade.
"Vampires": One of the few English language songs on Coconut Rock. It's about the spread of commercialism, and it's difficulty running away from its bite, as the young ones are bit young and addicted to blood (money).
"Prince of Peace": Sounds like Buckshot LeFonque got in the studio, took a hit of acid and came out with a head-bobbing tune.
"Return of the Freak": A revisit to the funk days of yesteryear, you'll be pumping this song for years to come.
Written By: Shawn Alexander Roy
[Rating: 5/5]