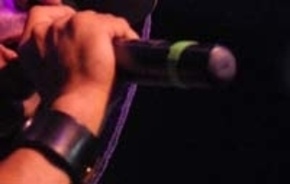 Welcome to a new decade, music lovers! We are starting off the year a little late due to some major internet and computer problems and some remodeling here at the Music Up Close Club. That's why you hear all of that hammering and the buzz drone of drills. We're changing up things here so that we can bring you more focused music coverage. Starting this month, Music Up Close will be doing theme nights here at the Club.
This month, we are going to be partying in the Sonic Bids Lounge with some skilled rhymers who are backed by some driving beats and some bad ass MCs, all trying to lay the truth down for you. They come mostly from the US–and a couple from unexpected neighborhoods. Though all of hip-hop talent we are showcasing from the US are talented artists headed for the A-list, we have booked an Australian group called The Brothahood for our virtual SonicBids Lounge Stage.
But before we get to all of these lyricists, I wanted to let you all get to know a young artist I admire, named MIKE-E.   So, just walk around the construction and we'll duck down this hallway that leads to the SonicBids Lounge. I've put MIKE-E in our VIP Green Room. It's all been tricked out with all of the comforts our VIP artists could want—big screen TV, plush sofas, leather massaging recliners, the best bar stock we have and a spread of delectables sent over by a young gourmet chef, who's this fantastic drummer and blues harp player, who loves the Club.
Here we are. Have a seat, and I'll send Snake, our VIP bartender, over with our specialty VIP cocktail. And, don't mind the bald head, all of his ink, and the face full of metal. He's really a pussycat, and he really is the best bartender in the virtual universe.   Now, let me introduce you to MIKE-E.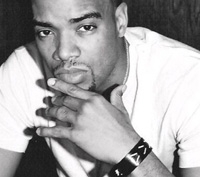 MIKE-E
Hip hop and spoken word artist MIKE-E is in awe of up-start, brash, risk-taking 60s poet Nikki Giovanni, who now is a professor at Virginia Tech. "When you talk about rhyming to best other people or kind of bigging yourself up," MIKE-E said, "to me the ultimate rhyme and example is her poem 'Ego Trippin'.' That poem has been copied by so many artists in the sense of using historical references and putting yourself in the shoes of Cleopatra or Shaka Zulu. I think that poem that she wrote is a standard barer."
His respect of her work is such that he said, "Quite honestly, I must tell you, it is because of   poets like Nikki Giovanni that I hesitate to even call myself a poet.   I say spoken word artist because I think my best writing that I've not shared with anybody falls in the line of poetry. I'm still developing that…. We throw the term poet out so loosely without understanding the responsibility that comes with it and the sacrifice and risk that people like Nikki Giovanni took. The types of things that she and so many poets were saying were the types of things that could get people lynched, thrown in jail, or ostracized. Now, we have this platform for free speech and it's often taken for granted. So, I don't use that term poet."
Yet, from my own love of Nikki Giovanni's work and experiencing MIKE-E's, he's coming close to some of those great poets. MIKE-E, though, doesn't see that. In fact,he's very much aware of new talent coming up. "Because I would be considered more of a grassroots, underground artist in terms of the music industry, I don't believe in tossing stones at everybody out there who happens to be on the radio and selling millions of records. At the same time, who am I to say what helps you get through your day? If 'Happy Birthday,' even if it's to me a very simple rhyme, helps you get through your day, then who am I to judge whether it's negative or positive. My argument has just been from just a commercial pipe line, if you will, that there's a lack of balance. Sometimes people say that there's no more good music today. I would argue that it's just the contrary. There is more than there's ever been. To say that is an insult to the millions of artists worldwide who work really hard at their craft. If you make a statement like that, you are basically saying you're not willing to go beyond your typical means to access that music. But I'm blown away by how much artistry is out there and feel like that I can't consume enough of it."
MIKE-E has been tapping some of that wide range of talent on the AfroFlow tours he does that   are sponsored by the American Cancer Society. Last year, MIKE-E and his fellow tourmates singer Kenny Watson, DJ Invisible, and percussionist Sowande Keita presented music and song to audiences, including a lot of college students, throughout the heartland of America. The AfroFlow tours have been happening annually for MIKE-E and his tourmates.
AfroFlow brings together a collection of African and African-American artists who offer two messages.
One of them is the   American Cancer Society's continued push to raise awareness about the harmful effects of tobacco use and the prevention and treatment of all types of cancers, not just those caused by smoking.
"I was writing poems about the history and roots of tobacco long before the American Cancer Society approached me," MIKE-E said. "Some forward-thinking people out of North Carolina approached me. I performed for them, and I developed a larger concept, which they liked."
And, MIKE-E isn't doing this just to have a charity sponsor as many artists have begun to acquire as a PC way to sell CDs. "Selling CDs might be fifth on the list of our priorities when we do the AfroFlow tour," MIKE-E said. "We really have to embrace the mission. Beyond performances, all the artists on the tour are very gracious. We go to American Cancer Society Hope Lodges. We go to hospitals. We go to kid's cancer units. We've been to middle schools, high schools, elementary schools, churches, night clubs." All bringing this message of prevention and hope for a cure.
For MIKE-E, especially, this isn't just an intellectual exercise in altruism. "I feel blessed and honored to work with the American Cancer Society because I have lost friends and family to cancer, and I have friends and family who are cancer survivors," he explained. "I did a PSA with my aunt who is a cancer survivor and who is also a heart transplant survivor as a result of the chemo." Currently, his own father is battling cancer.   "He has radiation treatments in the morning and then is working to help promote this tour."
And the commitment of the American Cancer Society has been phenomenal, MIKE-E sair. "There is a boldness when you   put nearly a dozen African-Americans on a bus, call it AfroFlow, and send it to the heart of tobacco country! It was very forward thinking. We're proud of that, and we're proud to be working directly with them."
The second mission that MIKE-E and the AfroFlow tour is doing is presenting a visual and musical spectrum of African roots. He himself was born in Ethiopia and came to the US when he was about three. He grew up in northern Virginia and is now based in Detroit. "When we say AfroFlow, people expect to see kente cloth and things that people have come to see as Afro-centric,"MIKE-E explained.   "Walking and talking a certain way doesn't heighten or diminish one's African heritage. Sometimes, people are surprised because it's an interesting mix from what they expect. You know, Chuck Berry is AfroFlow. BB King is AfroFlow. Jimi Hendrix is AfroFlow. That's the way we see it."
For MIKE-E, AfroFlow's mix of singers, spoken word, drums, and a DJ artist is based on an ancient tradition of drummers and grios who traveled all across Africa. Today, AfroFlow represents a small portion of the African diaspora with Sowande Keita's West African drumming and MIKE-E's Ethiopian roots. DJ Invisible represents the modern, and Kenny Watson is comfortable singing nearly every genre of music available today from gospel to soul to R&B to opera. "It all represents the artistry that came out of the diaspora,"MIKE-E said. "At the beginning, you had the grios and the drummer who traveled together. In modern hip hop times, you have the rapper and the DJ. There's an interesting dynamic there."
AfroFlow offers a lot of inner awareness but also promises to present a great show wherever they appear. And nearly always the shows are free (but do hit up the audience for donations to the American Cancer Society. MIKE-E is currently working out the details for the 2010 AfroFlow tour. And album MIKE-E Presents AfroFlow is available from the AfroFlow website.
http://www.afroflow.com/loudbabycart2/home.php
SonicBids Lounge
Now, let's let MIKE-E catch his breath. He's coming on down to the SonicBids Lounge later. He's interested in seeing all of the hip-hop talent there and he wants to see what The Brothahood has to say. So, come on down the hall here to the lounge. We'll freshen your drink at the bar here and then I'll show you around.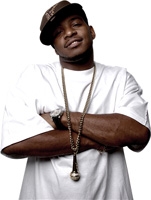 Right over at this big table is our New York delegation. Hello, Razor, baby. Congrats on the release of your debut mixtape, Mr. M-I-A, with those great hits "Feelin' Myself" and "Holla." The music videos for those two cuts have generated over 200,00 views on both Vladtv.com and Myspace.com. But, you know, baby, I really like "For U" with Shawnna & Rick Ross. This is Razor's fifth release. And, he's a producer, too, bringing us some hot new talent.
http://www.myspace.com/razorthawaterboy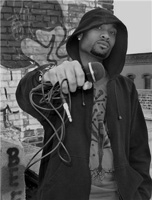 With him is MaG, a bright new talent from the Bronx. Give me some love, baby. MaG graduated from F.H. LaGuardia High School of Music, Art and the Performing Arts with a drama scholarship from Continental Airlines and the League of Theaters and Producers, thinking he was going to be an actor. But MC ing got into his blood and the rhymes started coming. His delivery is silky and sultry but packed with a message. MaG was the winner of DJ Green Lantern's Sonicbids Mixtape competition where he landed a coveted spot on Green Lantern's "Alive on Arrival" mixtape. And last year, at Poly Prep High School's 2009 Community and Diversity Day, he helped score the soundtrack to the short film for the event and recorded two songs specifically centered around the day's events, called "I'm Me" and "Sumthin' to C." This young man has appeared on 24 recordings, and he's about to release his first solo LP, I Ain't Goin' Back to Retail. Last year. he toured all over the New York City area and even made a few appearances in Florida. MaG, make sure you introduce yourself to everybody in this room. They'll want to remember the day they met you, baby.
http://www.myspace.com/mrmag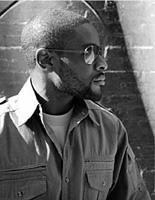 And over here is Traum Diggs. This five-piece Hip-Hop/Rap/Soul group is from Brooklyn, and they have five discs out. Their latest, The Throwback Series Episode 2, was released last year. What they bring to the stage and to their recordings is unique, weaving in live musicians and some of the sultriest, warm-honey vocals I've ever heard in hip-hop. Their sound spins on Traum Diggs and his influences. He's from East Flatbush, Brooklyn, the son of Caribbean immigrants. It may be those island influences that color their work. But whatever it is, it's magic. And then there are sexy Drea's background vocals that add mood whether it is a song about a relationship or plea about the economy. All of that is supported by Pocket on drums, Najee on bass, and Hakhi Alukun on guitar. It's a sweet, sweet mix.
http://www.facebook.com/traumdiggs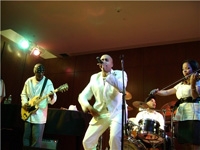 At the adjoining table is the 7-piece group, BR and TIMEBOMB. Hi, guys and ladies. I have to tell you that this group really changed my mind about what Hip-Hop could be if you put it through a world-influenced filter and put a full band in back of it. BR (Beyond Recognition), a hip-hop artist from Brooklyn, has worked solo and with a few other groups, but when he connected with TIMEBOMB, it really was a match made in music heaven. Shanelle Jenkins plays trumpet and sings back up vocals for TIMEBOMB. She's accompanied by Olivia Martinez on violin, Kyle "Karnage" Eaddy on lead guitar, Stacy Beatty, Jr. on bass, and Jibrail Nor on drums. Not only does BR and TIMEBOMB produce music that's interesting to listen to, but they have something important to say and do it with finnesse!   They recently released their first three singles: "Fuegissimo,"   "Hit Em Inna Head," and "It's On You."
I love you, guys!
http://www.myspace.com/brdaone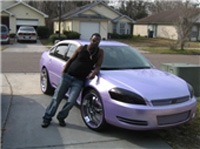 Let's take a stroll farther into the SonicBids Lounge. There's another group of Hip-Hop artists I want you to meet. These guys are from the some unexpected places. First up at this table are TD and Geno D. Hey, guys. TD and Geno D are two rap artists and a DJ from Jacksonville, Florida, who produce layered tracks. TD has been rapping since 1993 and even started his own label when he was 21. They old-style rap that straight from the street, telling it like they see it. They have three discs out.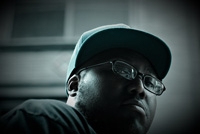 Another talent who also doesn't pull any punches is PHIZZ ED from Columbus, Ohio. Yes, you heard me right. Columbus, Ohio. He's been rapping all over that town, creating what he calls "blue humor," often perfomring with Lord Hakim and Doc Giggz. He's got seven albums out, with more inside his head, waiting to be recorded.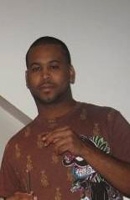 With him is fellow Ohioan NiQ, who also is from Columbus. NiQ (short for Unique) was born Will Swanson and he's been cranking out tunes for awhile now, though he's only 23. I know I'm embarrassing you, baby, but the world needs to know that your youth is an advantage not a liability. He's opened for some national acts such as Gucci Mane, OJ Da Juiceman, Kool Keith, and Flo-Rida. He released a full-length LP in 2008 and just launched a single called "Rocker." His talent and his good looks have drawn over 50,000 hits for his Youtube video. Like the West Coast rapper Deploi who discovered grassroots Minnesota, NiQ is an honest rapper who writes about the Midwest and is putting this relatively unknown Hip-Hop scene on the map.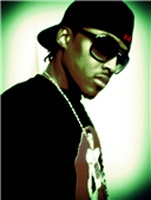 Next to NiQ is another talented young hip-hop artist. Badluck Tuck, who has also performed as Dat TuckaBoy, is from Richmond, Virginia. An accomplished graphic/web designer, he wrote his own books, drew comic books, and wrote poems when he was a kid. He started making music with his cousin in high school in a group called NSR-NonSense Records, even recording some CDs to sell. He's released five CDs to date. Though music is central to his life, right now he's pursuing a degree at ECPI in Richmond in graphic/web design while gigging as he can. I really admire what your doing, baby. It will all come together.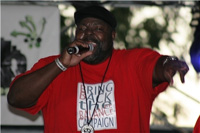 Now, over here is this big chuck of hip-hop love is Jitu tha Jugganot, also from Chicago. Hey, baby. Give me some love. Badluck Tuck and you should have a serious conversation. Jitu tha Jugganot was rapping in the city in the early 90s in a group called Ten Tray. He's back as a solo act offering up hip-hop that lays the truth like I've never heard, painting portraits of life in bleeding color.   Using, as he says, hip-hop as a tool to teach, his performances talk of what's wrong with the educational system in communities where people of color live and other issues of concern. A teacher of Afro-American history at St. Leonard's Adult High School, the only accredited HS in the United States for the formerly incarcerated, Jitu puts into action what his words enlighten. In the finest tradition of leaders like Nelson Mandela and our own president, he's a community organizer. The music that Jitu tha Jugganot produces is music that every community in this country should hear. It would open a lot of minds and maybe some big pockets. You keep doing what you're doing, baby. We need more like you.
http//www.jituthajugganot.com
http://www.myspace.com/jituthajugganot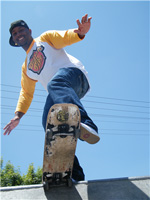 Cozying up in this table by the stage are two California hip-hop artists, who perform under their real names and not a flashy alter. Born in Texas, Josh Clemons now lives in Inland Empire. Like a lot of musicians, his love of music began in church. But it was hip-hop that stole his heart. He began rapping at15 and since has clocked a lot of hours in front of an audience, touring all over the US. Last year, he released his first mixtape, Freedom of Speech, following it with the catchy single "White Boy Clothes," a fun, funky tune.
http://www.myspace.com/josh86clem
Fellow Californian Ivan Ives is from Los Angeles, mixing raps, song vocals, beats, cuts/turntables, and live drums into a great musical mix. Born in Russia, Ivan has found the best of American music, blending many different genres into his hip-hop creations. Coming on the hip-hop scene three years ago, he has completed ten tours throughout North America and released over a dozen albums, EPs, and mixtapes, with the latest, Newspeak, released last year. He's gotten over 300,000 hits on his YouTube videos since 2008. And, it's no wonder. Ivan's work is unique, lots of fun, and musically interesting.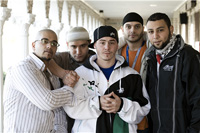 Now, grab a seat near the stage while I go get us some drinks. What you are about to see on the   SonicBids Lounge Stage is a wonderful new act from Melbourne, Australia. The Brothahood is composed of five young artists from different ethnic minority groups and were all born and raised in Australia. Having Muslim backgrounds, they are using hip-hop to shatter stereotypes and build bridges of understanding. Jehad Dabab, Ahmed Ahmed, Moustafa Dabab, and Hesham Habibullah are rappers and Timur Bakan is a singer and beatboxer. They have toured all over Australia and even performed in London, Toronto, Kuala Lumpur, and Abu Dhabi. These guy write intelligent rhymes about the issues and struggles of people the world has come to be suspicious of–all because of their appearance, where their families came from, or what they believe. Their music speaks to harassment, being unable to board an airplane without suspicion, encountering prejudice at every term, while lifting up brotherhood,   understanding, and empowerment.   The Brothahood produced a video of   "The Silent Truth" from their LP, Lyrics of Mass Construction, for YouTube that is getting thousands of hits.
You can give The Brothahood some love by finding them on Facebook, MySpace, YouTube and Twitter.
http://www.thebrothahood.com.au
Well, that's it for this month at Music Up Close with Janie.   Next month come on back for a Clubful of ladies. They'll knock your socks off!
Wriiten By: Janie Franz – jfranz@skopemag.com