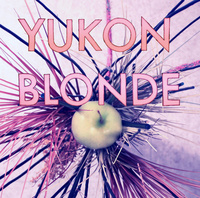 Yukon Blonde's self titled debut full-length is garnering some serious buzz amongst the indie circles in Canada. As one would imagine, in the age of immediacy, fueled by blogs and the like, buzz surrounding a young band's debut LP isn't anything new. Yukon Blonde definitely run the risk of falling victim to the hype, considering how obvious their influences are, from the jangly harmonies of CSNY, the expansive notoriety of My Morning Jacket and the deft harmoneis of the Beach Boys. Yukon Blonde however, set themselves apart by how remarkably adept they've taken these influences and harnessed them into ten bouncy yet compelling tracks.
"Babies Don't Like Blue Anymore" is one of the most glaring examples; it rumbles with catchy guitars and a soaring chorus loaded with playful melodies. It's not hard to hear the aforementioned Beach Boys in the track, but Yukon Blonde throw their own fresh coat of paint on the track. It might be easier to imagine Brian Wilson with a grizzled old beard, long hair and a cigarette dangling just so throughout "Babies Don't Like Blue Anymore." Yukon Blonde's influences are indeed prevalent, as they should be on any debut LP. But they make giant strides throughout the record to carve their own niche, including on the twisting, soulful "1000 Years." Yukon Blonde is a markedly mature effort, with stunning production to top things off.
For music fans who thought that good music died in the 1980's, Yukon Blonde's debut LP is for you. Believe the buzz, and believe in new music again.
By Joshua Kloke
[Rating: 4/5]